Judge Aaron Persky Removed From New Sexual Assault Case Amid Brock Turner Controversy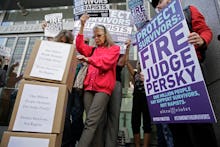 Santa Clara, California, Judge Aaron Persky — the same judge who has received backlash for sentencing ex-Stanford University swimmer Brock Turner to just six months in jail (of which only three will actually be served) for three felony sexual assault counts — was removed Tuesday from another case involving sexual assault under suspicions of unfairness. 
In the new case, a male nurse is facing allegations for sexually assaulting an anesthetized woman, according to KNTV.
"We are disappointed and puzzled at Judge Persky's unusual decision to unilaterally dismiss a case before the jury could deliberate," the district attorney's office said in a statement, according to KNTV. "We lack confidence that Judge Persky can fairly participate in this upcoming hearing."
The request to remove Persky occurred after he dismissed a misdemeanor stolen mail case pre-jury Monday, ruling the prosecutors couldn't prove the theft. 
The new case would have been Persky's first case since the infamous Turner one, in which he admitted to letting the letters of those supporting Turner influence the controversially lenient sentencing.
Read more: