Watch Kanye West Take on Homophobia in Hip-Hop in This Throwback 2005 Interview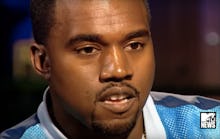 Kanye West is well-known for his incoherent Twitter rants and marathon-length acceptance speeches — but back in 2005, he made some astoundingly brilliant points about a big problem in his industry: the blatant homophobia that's plagued hip-hop music and culture since its inception.
In an MTV interview from 2005, West candidly discussed being a victim of homophobia growing up and how it shaped his identity in an industry that he said considers the word "gay" the antonym of cool.
It took a deeply personal story — West's learning that his cousin is gay — for everything to come together for him.
Watch the full interview below: