Pornhub Is Now Offering 'Porn for the Blind,' or Porn for Blind People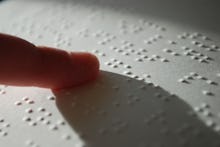 Here's something you've probably never asked yourself: Is there a way for horny blind people to experience quality porn in spite of their visual impairment?
One could imagine that simply listening to the audible groans of normal porn might feel weird without the corresponding visuals. And jerking off to the braille version of Fifty Shades of Grey might leave the hands too busy to effectively... y'know.
But now, Pornhub claims to have a solution to this problem. The porn juggernaut has just launched a new "described video" category, a form of audio-only porn that the company described in a press release sent to Mic as "porn for the blind."
"With an estimated 285 million people to be visually impaired worldwide, here at Pornhub we wanted to lend our hand and debut an entire category dedicated to them," Pornhub's Vice President Corey Price told Mic in an email.
"Now, those who are visually impaired and have always struggled to find adult entertainment content specifically catered to them can simply visit our platform and select from 50 initial enhanced-audio videos stems."
A described video is pretty much exactly what it sounds like: a video in which offscreen narrators describe the action of the scene in a stoic, play-by-play fashion. So, like: "We're on a college campus. A busty young blonde enters a classroom. Her professor is sitting at his desk. When he stands up to greet her, it turns out that he has an erection..." and so on and so forth.
It is kinda weird! But who knows — some research has indicated that sex education for blind people is often "hindered by failures to accommodate their visual impairments," so this kind of thing might actually be somewhat edifying, in its own way.
"[The collection of videos] stems from Pornhub's top viewed straight, female-friendly, gay, bisexual and transsexual videos," Price said. "[It] features voiceovers done by both professional voice actors as well as Pornhub Aria, our social media personality."
Here's a lil' SFW preview:
Pornhub isn't the first organization to take a stab at producing blind porn.
Back in 2008, Wired reported on a nonprofit out of Massachusetts called Porn for the Blind that released similar descriptive audio clips of porn scenes.
"We imagine that visually impaired people benefit from this service in many of the same ways that non-visually impaired people benefit from the raw hard-core pornography that's being described," the site's anonymous co-founder told Wired at the time.
Meanwhile, braille porn has also been attempted in the past. In 2010, Lisa J. Murphy released a "book of nude photographs for the blind" called Tactile Mind. CNN described its contents as "raised images of naked bodies with braille descriptions [of what the bodies look like] alongside."
More recently, Swedish artist Nina Linde put out a similar book last year called Occasionally Blind, which features tactile illustrations of people engaged in sex acts.
Even when it's not being marketed toward the blind, the genre of "audio porn" has gained an audience on Tumblr in recent years.
"Audio magnifies whispers and swallows, humanizing the performer and creating a tangible experience that photography and video can't compete with," Nona Willis Aronowitz wrote for Playboy in February 2015. "Audio ... can fulfill any fantasy quickly, discreetly and cheaply — no matter how specific."
Given that audio porn already has a following of its own, not everyone is sold on Pornhub's sudden entry into the genre.
Chauntelle Tibbals, author of Exposure: A Sociologist Explores Sex, Society, and Adult Entertainment, is skeptical of the company's motives. 
"[It] means they are just repurposing content they've stolen, driving traffic and generating ad dollars — all under the auspices of caring," she said in an email. "Audio porn — all the various forms of it — is rich and interesting and actually could serve sight-impaired people, as well as a whole slew of others."
For its part, Pornhub stands by its claim that the videos are only meant to be of service to the blind horndogs of the internet.
"We hope to open the door and inspire our community members, content partners and other platforms to create more content with the differently-abled user in mind," Price said.