Target Shoppers, Staff Perfectly Clap Back at Man Who Calls Breastfeeding Mom a "Whore"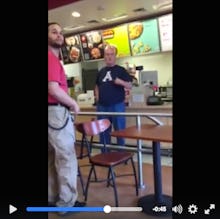 Jessie Maher was enjoying a casual trip to Target on Monday when she paused to feed her child.
That's when a complete stranger started to berate her for breastfeeding in public, according to a post she uploaded to Facebook.
"Before the video started rolling he looked at me and said (very angrily), 'can't you do that somewhere else? ... That's fucking disgusting ... You are nasty,'" Maher, who lives in Canton, Connecticut, wrote. "I responded with, 'I am feeding my baby, and I have the right to do it here ... walk the fuck away ... leave me the fuck alone.'"
The man then started calling her awful names.
"'[You] are fucking disgusting ... you are fucking disgusting ... you whore,'" he reportedly said, as he inched closer to her and began speaking more loudly.
"[By] this point EVERYONE came to my defense!" Maher wrote. "Target staff and shoppers ... Then I started rolling the camera."
The ensuing video shows an emotional Maher recording Target staff and bystanders standing up to her harasser.
"He has no right to be doing what he's doing, you have a baby in your hands," one women tells Maher in the video, as she stands between the breastfeeding mother and the angry man. "You shouldn't be ashamed of feeding your baby, OK? He can go the other way. This is a beautiful moment."
A group of red-shirted Target employees then confronted the man and led him out of the store.
According to the Huffington Post, this is in line with store policy — Target supports breastfeeding moms.
"Target's policy supports breastfeeding in any area of our store, including our fitting rooms, even if others are waiting," the store's policy reads. "If you see a guest breastfeeding in our stores, do not approach her."
In the video, Maher is clearly moved by how many strangers came to her defense.
But the larger problem of women being shamed and harassed for using their breasts to feed their children in public — as opposed to say, to sell us sparkling water or Carl's Jr. hamburgers — doesn't seem to be going away anytime soon.
Jessie Maher did not immediately respond to Mic's request for comment.