Here's How Emma Watson's Path to Stardom Sets Her Apart From Every Other Young Actress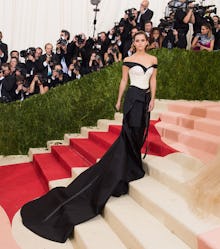 When it comes to young actors, Emma Watson is in a class of her own. The 26-year-old exists in a separate space from her contemporaries. She's not an Oscar winner like Brie Larson. She's not a "celebrity" in the most hackneyed sense of the term like Emma Stone. She's not a musical sensation like Anna Kendrick.
Watson is her own star: a smart, feminist firebrand who also stuns on the big screen. She's as notable for her extracurricular work as she is for her career. To understand how she came to be who she is now, one need only look at the former Harry Potter actress' path to stardom.
She took time off from movie franchises to get her Ivy degree.
Watson chose to scale back her film work as Harry Potter winded down, enrolling in classes in 2009 and graduating in 2014 from Brown University. She studied English literature.
A great deal of actresses would have taken the chance to find a lucrative franchise. Think of stars like Larson and Jennifer Lawrence, both of whom launched into long series shortly after their first Oscar nominations. It's an attractive opportunity: pay, exposure, talk show circuits. But Watson already did that with Harry Potter.
In choosing her own path, Watson made herself a well-rounded woman in a way few of her contemporaries can claim. Those differences would only grow greater as she progressed in her career.
She focused on feminism — in intersectional fashion.
Watson is one of Hollywood's most visible feminists, using her platform for a slew of good causes. Her HeForShe campaign with the United Nations aims to have a conversation about equality with many people, regardless of gender, race, orientation, etc.
She's written at length about the idea of "white feminism," noting the numerous problems with not having as inclusive a conversation as possible. She's challenged herself and others to do more. She even rapped with Lin-Manuel Miranda about it. Watson has done much to educate young women about feminism, using her star power for all the right reasons. In a Hollywood system that so rarely finds room for women, Watson's voice is all the more vital.
She explored unusual film projects.
When Watson came back to making movies regularly, she took on unusual projects. She worked with Black Swan director Darren Aronofsky on Noah, for instance, and went back to YA in the much-darker-than-Harry Potter title The Perks of Being a Wallflower. 
But her most interesting choice of all may have been Sofia Coppola's The Bling Ring, the true tale of teen thieves robbing celebrities. As former thief-of-the-stars and Pretty Wild star Alexis Neiers, Watson got a chance to go big. It's her most detailed character work yet, every line delivery surprising and delicious. The way she chews over the phrase "I'm a firm believer in karma" and revels in her character's bad behavior reveals Watson to be a stunning performer.
More than any other film, The Bling Ring proved Watson was more than just Hermione. It was her breakout moment as not just a star, but as a true actress. DID SHE WIN ANY AWARDS FOR IT?
She came back home to franchises — in a big way.
Five years after the Harry Potter series came to a close, Watson is finally returning to the world of franchises with Beauty and the Beast. Whether the film is a one-off remake or turns into a greater cinematic universe (Disney is certainly fond of those) remains to be seen. But everything about this project is exciting.
Watson makes for a great Belle; the scholastic wonder shimmering through her eyes as Hermione will work for the bookish princess too. The ensemble cast is a dream: Ian McKellen! Gugu Mbatha-Raw! Audra McDonald! Stanley Tucci! This isn't just another X-Men or Marvel movie — this is the prestigious, live-action remake of a best picture Oscar nominee.
Watson is entering the next phase of her career in a smart project, with a great filmography behind her and a brand built on social awareness. She's working on a level no other mid-20s actress is, and it's all because she took the right path to the top. Considering how young she is and how smart she's been so far, there's no stopping her from here on out.
Read more: