Donald Trump Feels the Backlash After Accusing U.S. Troops in Iraq of Embezzling Money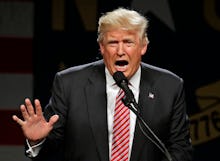 Presidential hopeful Donald Trump is taking a rhetorical beating after accusing United States troops of lining their pockets with funds meant for rebuilding Iraq after military operations there.
"Iraq, crooked as hell. How about bringing baskets of money — millions and millions of dollars — and handing it out?" Trump said at a Tuesday rally, Politico reported. "I want to know who were the soldiers that had that job, because I think they're living very well right now, whoever they may be."
Read more: Donald Trump Says Orlando Victims Could Have Saved Themselves if They Were Armed
There are indeed many accounts of graft among members of the U.S. military assigned to oversee the reconstruction of war-torn Iraq and Afghanistan.
In 2015, the Center for Public Integrity reported that over the prior decade, "115 U.S. service members [had] been convicted of crimes valued at more than $50 million in Iraq and Afghanistan, including stealing, rigging contracts, and taking bribes."
Trump spokeswoman Hope Hicks later walked back the candidate's comments, saying the presumptive Republican nominee had been referring to Iraqi, not American troops.
But Trump's accusations sat poorly with critics, particularly in light of his heavy boosterism of the American military and veterans. The Manhattanite himself never served, having received multiple draft deferments during the Vietnam era.
Among the candidate's most vocal critics Wednesday: Sen. Tim Kaine of Virginia, a Democrat whose name has been floated as a potential running mate for presumptive Democratic nominee Hillary Clinton.
"Yesterday was the birthday of the Army," Kaine said during an appearance on MSNBC.
"He insinuated that American soldiers were stealing money in Iraq. He said that. Trump has been going around saying repeatedly 'the American military is a disaster,'" added Kaine, saying that he's not only a member of the Armed Services Committee but the father of a child in military service. "I want to go through the screen and shake the guy. We do not need a commander-in-chief who is going to talk about our troops with disrespect and contempt."
The Army's 241st birthday did not escape Trump's notice.