President Obama Called Himself a Feminist — Here's How Men on the Internet Responded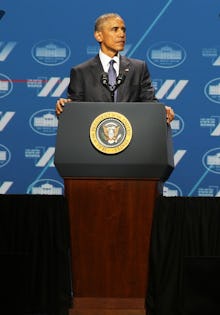 During a speech at the White House's first United State of Women Summit Tuesday, President Barack Obama made one thing explicitly clear: The commander-in-chief is a feminist. 
"I know you're all here for Michelle ... but I did want to stop by and make one thing very clear," Obama said. "I may be a little grayer than I was eight years ago, but this is what a feminist looks like." 
That explicit statement — powerful as it may be — shouldn't come as a surprise to anyone who's been paying attention to Obama's key political platforms. During his administration, Obama championed legislation for additional paid family leave; worked to provide women with more career opportunities in the fields of science, technology, engineering and mathematics; and, going back to his first piece of legislation from 2009, signed the Lily Ledbetter Fair Pay Act, allowing for an easier process for workers to challenge unequal pay in the workplace. 
However, Obama's declaration that he supports men and women being treated equally drew the ire of some people on Twitter, who were compelled to voice their disagreements — with a few even putting forth the notion that because Obama is a feminist, he must also be gay:
Apparently the president self-identifying as a feminist is a farcical concept to those men sexist enough to think that acknowledging women as your equals compromises your manhood. Instead, as Game of Thrones' Maisie Williams previously stated, we might as well call non-feminists sexists, and treat people who view all genders equally as just that: normal people. 
You can check out Obama's full remarks from the Summit below: 
Read more: