This Evil Man Gave Away His Girlfriend's 'Hamilton' Tickets Without Even Telling Her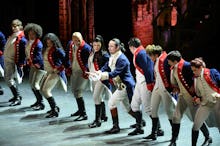 The extreme scarcity of Hamilton tickets appears to have torn one Los Angeles woman's relationship apart.
In a, now mysteriously redacted, 1,600-word Reddit post Tuesday, confusedtheatergeek shared a story about how her boyfriend of just a few months randomly took it upon himself to offer up a pair of Hamilton tickets — that she had bought for herself and her mom and was very excited about! — to his "troubled sister." The worst part? He didn't even give his GF a heads-up.
I surprised my mom with these tickets back in December for Christmas. I'm making a whole week of it, I put us up in a really nice hotel ... We are both incredibly excited for this, my mom even has a little Hamilton countdown that she's doing on a mini chalkboard she uses as a planner. She sends me pics every day when she changes it, it's cute.
Not only that, but the seats are fifth row center and the date happens to be creator Lin-Manuel Miranda's final performance!
Read more:
• The Cast of Hamilton Just Showed the World Why It's a Modern Theatre Masterpiece
According to confusedtheatergeek's post, she was watching the Hamilton cast perform at the Tony Awards with her boyfriend when she started texting her mom about how excited she was to see the show. She showed the texts to her boyfriend, who then asked when the performance was and proceeded to mysteriously disappear into the other room to make a phone call.
As it turns out, confusedtheatergeek wrote, "he was actually on the phone with [his 17-year-old sister] Jen promising that I would give her my Hamilton tickets!"
What's worse is that the dude actually had the balls to not tell her about it until the next morning at brunch — in front of his parents! And when girlfriend was all, No, I will not give away these rare and highly coveted tickets that are currently selling for thousands of dollars, they freaked out.
"All three of them start going on about how Jen is 'super excited about this' and that this is the first time that she's not been mad/expressed happiness to them in a while," confusedtheatergeek wrote. "And that's how the next half hour goes basically, until the parents leave, mad, and the dad calls me a selfish cow."
In the end, the relationship did not survive this very strange incident, as she revealed in a subsequent comment on the post that she broke up with the dude via email. 
"I'm typing up an e-mail dumping him right now," she wrote. "I think this is one of those situations where everything was so crazy and they were acting like this is totally normal behavior that I thought I was the insane one."
That is *exactly* what this situation was, confusedtheatergeek! Just be glad you got out of it while you were only a few months in and will never have to worry about these people being your actual in-laws.
We have reached out for further comment and will update if she responds.