We Underestimated Donald Trump in the Primary. Are We Making the Same Mistake Again?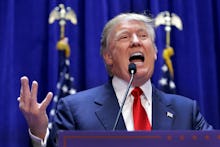 Exactly one year ago, the political world greeted Donald Trump's announcement that he would seek the Republican presidential nomination with a mixture of outright derision and amused contempt.
Some were horrified by the Manhattan billionaire's incendiary rhetoric targeting "rapists" pouring across the United States-Mexico border, while others viewed the master showman's campaign as an entertaining sideshow — but virtually all agreed the political novice would never win the GOP nod, much less the presidency.
Read more: Donald Trump Feels the Backlash After Accusing U.S. Troops in Iraq of Embezzling Money
Thirteen million votes, 40 primary or caucus victories, well over 1,237 delegates and innumerable controversies later, Trump seems to have defied the laws of political gravity, and is set to formally accept in July his party's nomination at Cleveland's Quicken Loans Arena. But as he prepares to face presumptive Democratic nominee Hillary Clinton in the fall, the conventional wisdom holds that Trump's luck is about to run out.
Have we learned nothing — or are the experts right this time?
Welcome to the big leagues: "Trump has defied most of everything we've known about how this process usually works," Geoffrey Skelley, an elections expert at the University of Virginia's Center for Politics, said in a phone interview. "Knowing all this, it would be foolish he has a 0% chance of winning."
But the obstacles confronting the GOP standard-bearer are daunting.
Start with the electoral map. Based on state polling averages and demographics, RealClearPolitics estimates that Clinton starts out with 204 electoral votes either leaning her way or solidly in her corner, compared to Trump's 164. And the former secretary of state enjoys a much wider path to the 270 electoral votes required to win the presidency.
Polling averages place Clinton ahead of Trump in toss-ups Florida, which awards 29 electoral votes; Pennsylvania (20); Ohio (18); Michigan (16); Virginia (13); Arizona (11); Iowa (six); and New Hampshire (four). Recent surveys even suggest she's within striking distance of Trump in Utah, among the most Republican states in the union.
Should Clinton force Trump to play defense in such rock-ribbed territory, his hopes of building on the 206 electoral votes GOP nominee Mitt Romney won in 2012 would rapidly diminish.
Electoral dynamite? Tim Miller, who served as communications director for Jeb Bush's campaign and has emerged as one of the most vocal boosters of the #NeverTrump movement, said Trump has alienated far too many voters to broaden the GOP coalition.
"African-Americans, Hispanics, women and millennials are repulsed by him and overwhelmingly rejecting him," Miller said in a phone interview. "The general election audience has not been living in a cave for the last year."
If Trump hopes to make inroads with those voters, he has work cut out for him. An ABC News-Washington Post poll released Wednesday found Trump's national unfavorability rating at a staggering 70%. His image is particularly tarnished among women, minorities and younger voters: 94% of African-Americans, 89% of Hispanics, 77% of women and 76% of voters under 50 viewed Trump unfavorably. Even white men gave him negative marks, with 46% viewing him favorably and 52% saying they see him in an unfavorable light.
A Bloomberg poll released Tuesday is further evidence of the challenge Trump faces. The poll, which showed Clinton leading 49% to 37% nationally, also found that 55% of voters could never see themselves backing Trump. (For Clinton, who's encountered her own image woes, the figure was 43%.)
Clinton is working assiduously to ensure that Trump remains unpalatable to the broader electorate, using her first television ad of the general election to highlight Trump's apparent mockery of a disabled reporter and his comments encouraging supporters to rough up protesters at his campaign rallies.
Shot, chaser: The road ahead may be steep, but Trump is no stranger to overcoming deeply skeptical electorates. Consider the poll results he confronted as he announced his bid exactly one year ago, when nearly 6 in 10 GOP voters said they would never support him.
Moreover, Trump starts with an edge over Clinton on terrorism, an issue once again at the fore of the national conversation following Sunday's massacre at the Pulse nightclub in Orlando, Florida. In the Bloomberg poll — conducted mostly before the Pulse attack — voters indicated that on terrorism, they preferred Trump 50% to 45% over Clinton.
But Trump may be squandering that advantage. In the days since Omar Mateen, a Queens, New York-born son of Afghan immigrants, opened fire at the Pulse, Trump has boasted that he "called it" on the threat of domestic terror attacks, doubled down on his proposed Muslim immigration ban and asserted the attack would have been less deadly had the victims been armed.
According to a CBS News poll, while Americans narrowly approve of Clinton and Obama's response to the attack, they disapprove of Trump's response by a 2-to-1 margin.
Those results suggest Clinton's attacks on Trump's temperament and fitness to serve as commander in chief could prove particularly potent as November approaches.
A dismal turn for the economy may yet lift Trump's fortunes. Job growth has slowed in recent months, and economists surveyed by the Wall Street Journal this month predicted that 2016 would mark the worst year for jobs growth since 2010. The vicissitudes of the world economy add further uncertainty; the United Kingdom's potential exit from the European Union this month has global investors on edge.
But Skelley said it may take a full-scale recession to bring down Clinton.
"If the economy stays sort of 'meh' in the next two months, that's a win for Clinton and for Obama and for Democrats," he said. "If we actually are headed toward a potential recession, a dip in growth in the third quarter, that kind of thing would at least potentially help Trump."
The path forward: Yet Trump's reluctance to make significant investments in a sophisticated data operation and voter turnout effort will likely undercut his bid to grow support, strategists say.
"Part of the theory behind Trump is that he's bringing new voters into the process," Miller said. "The people he's targeting are people who don't vote. They've got to find these people, get them registered and turn them out."
Lacking a superior ground game, Trump — who contends he can win the White House without raising even $500 million — may be crushed by Clinton's campaign juggernaut.
"Hillary's organization will be able to go and target all the groups that Trump has offended," Miller said. "There really isn't a lot of excitement about her candidacy — particularly among young voters — but through using the Obama data and the data she's been building for the last year, they're going to be able to make sure that turnout is high."
Trump knows a thing or two about defeating well-funded candidates who fail to ignite grassroots enthusiasm, but he may struggle to drive turnout among Republicans in the fall — particularly if he continues alienating establishment Republicans, as he's done with his attacks on the Hispanic heritage of the judge overseeing the federal lawsuit against Trump University.
On Wednesday, the respected Marquette University Law School poll found that in Wisconsin — a state Trump hopes to turn red this fall — only 78% of Republicans are certain they'll vote in the general election, down from 87% in March. Among Democrats, 84% said they were certain to vote. Overall, Clinton led Trump 46% to 37% in the Badger State.
Should other polls show a similar enthusiasm gap, Clinton's prospects will brighten further.
The new conventional wisdom marks a sharp turnabout from just a few weeks ago, when Trump erased Clinton's national polling lead as she remained embroiled in a heated primary battle with Bernie Sanders. With the Democratic Party's unification process well underway and Trump's general election campaign off to a rocky start, Democrats are licking their chops.
"There are days I wonder if Jesus loves me, and today I realize he truly does," quipped veteran Democratic strategist Steve Schale.