The Number of People Who've Died at Disney World Proves Your Childhood Was an Utter Lie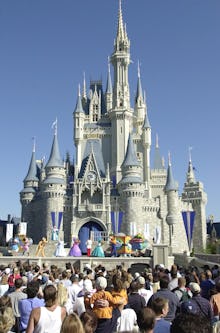 Twitter was horrified when news broke that a 2 year-old boy was dragged by an alligator into a lake at one of Disney World's resorts on Wednesday.
A child getting eaten by an alligator is tragic no matter where it happens, but people were particularly sensitive to the location. 
Many reactions on social media suggest that people are under the impression that bad things don't happen at the happiest place on Earth.
But since Disney World opened in 1971, it's been a hotbed for fatal accidents. Several people have died in the sort of bizarre ways you only hear about on Spike's TV series 1000 Ways to Die.
In 2010, 9-year-old Chase Brubaker was crushed by a Disney World shuttle bus near the park's Fort Wilderness Resort. "This is the best day ever," his mother, Kelly Brubaker, told the Palm Beach Post her son had said when they arrived at Disney World. "This is my best vacation."
In 2004, Disney World employee Javier Cruz, whose job it was to dress up as Pluto, got his foot caught on the Beauty and the Beast float during a parade, causing him to trip in front of it — he was unable to move out of the way before another float struck and killed him. 
Three Disney World employees were killed within three weeks in 2009 due to a series of malfunctions during the "Indiana Jones Epic Stunt Spectacular" show.
Even the iconic "It's a Small World" ride isn't free of fatalities.
In 2010, an employee was cleaning one of the boats on the "It's a Small World" ride when the boat suddenly turned on and dragged him under. 
A woman also died on the ride in 2015 after she lost consciousness due to the motion, the Orlando Sentinel reported — during Christmas.
Park visitor Marcelo Torres was killed on the "Big Thunder Railroad" ride in 2003 when a train cart derailed and hit him.
In 1974, 18-year-old Disneyland employee Deborah Stone was killed when she walked into a moving wall of a rotating stage while escorting park visitors to the park's America Sings attraction. The attraction closed for two days.