The Most Radical Thing About 'Orange Is the New Black' Is Its Latina Characters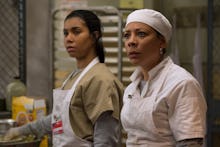 Netflix's Orange is the New Black has one of the most diverse ensembles in television history. The women of Litchfield come in different shapes and sizes and from all walks of life. What brings them together may be the upstate New York prison they share, but their backstories, told largely via flashbacks throughout the series, show us the breadth of fascinating and wildly divergent tales these women carry with them.
Using its affluent white "Trojan horse" of a protagonist, Jenji Kohan's series, which drops its fourth season Friday, has offered us the most complex women of color characters in television, something which is most evident in the way it's depicted and explored the Latinas on the show.
As a corrective to long years of being portrayed as maids and sex workers (not to mention being disproportionately sexualized), Latinas have seen a rise in a decidedly different model of Latina character over the past two decades.
Consider the two most recognizable Latina-led shows of the past decade: Ugly Betty and Jane the Virgin. Both center on smart, grounded, goal-oriented women with a moral backbone surrounded by a supportive family network who adhere to strong family values. These are characters who offer young Latinas positive role models.
It's a testament to stars America Ferrera and Gina Rodriguez that they were able to mine Betty and Jane into fully fleshed out characters. But once you notice this newly improved Latina character, you begin to see how much it's been deployed as a welcome respite from the endless negative stereotypes that preceded it. You see it in the short-lived ABC sitcom Cristela, which centered on an aspiring Mexican-American lawyer, as well as supporting characters like no-nonsense capable nurse Carla Espinoza (Judy Reyes) on Scrubs and Brooklyn Nine-Nine's rule-driven Detective Amy Santiago (Melissa Fumero), the latter paired wonderfully with the deadpan but wildly capable Detective Rosa Diaz (Stephanie Beatriz) on the Fox comedy.
The list of powerful, career-driven Latina characters whom audiences can identify with and root for is ever-growing and speaks to the giant leaps that minority representation has taken in recent times. That this past year alone a single network boasted shows fronted by Jennifer Lopez (Shades of Blue), Ferrera (Superstore) and Eva Longoria (Telenovela) pointed to a television landscape that has begun seeing the potential of telling diverse stories about Latinas.
In the middle of this is Orange Is the New Black, a show that by design focuses on women with flaws. On the surface — even in a casting notice — "Latina inmates" who are lumped together by other characters as "Spanish Harlem" would give any aspiring Latina actress pause. Jessica Pimentel, who plays Maria on the show, has been vocal about her reservations about even considering yet another role that would pit her into yet another seemingly stereotypical role.
"Of course I had my reservations," she said at the time. "Here I am, a conservatory-trained actress, and half of my resume is hookers. Old hookers, young hooker, hooker against your will, hooker with the heart of gold, hooker retiring, hooker starting out. I have them all."
Three seasons in, the streaming giant's show has proven it's always had quite ambitious ideas for its inmates and has become one of the most acutely observed narratives about Latin womanhood around. It has plumbed what would have been throwaway roles like "drug dealer's girlfriend" and "unwed pregnant inmate" with fervor. With characters like Daya (Dascha Polanco), Aleida (Elizabeth Rodriguez) and Gloria (Selenis Leyva), OItNB has sought to unpack the Latina mother figure, never glorifying it or reducing it to mere caricature.
These women are tender and tough, nurturing and cruel. Far from being picture-perfect mothers, they are shown constantly navigating what it means to take up that mantle, especially within a culture that so reveres them.
This is particularly the case with the relationship the show has established between Aleida and Daya. Viewers saw the two's first encounter at Litchfield — mother Aleida greeting her daughter by slapping her face. It's a complicated moment: Aleida may have been a jealous and careless mother outside the prison, suspicious that her teenage daughter was having an affair with her drug-dealing boyfriend (she was, eventually), but she still values her role. "You're not her mother," she tells Gloria at one point when she sees Daya being taken care of by her close friend. "I didn't get a belly full of stretch marks to be no fucking tía."
In turn, that is what Daya, who gave birth while incarcerated, has had to cope with. In giving up her baby, she's suffered an unspeakable loss, one she knows is rooted in the futile vision of her being the mother she always wished she could've had growing up. Knowing this is what motivated Aleida to arrange for Daya's child to be taken back to her own family home, rather than to the father's mother. It's a quiet moment of tenderness that she hides from Daya, but it shows how much Aleida understands her daughter, and how much of what she's ill-advisedly done was motivated by a desire to keep her daughter safe.
Just as we celebrate the "strong" female characters that actresses like Sara Ramirez (Grey's Anatomy), Gina Torres (Suits), Emily Rios (The Bridge) and Lauren Velez (Dexter) have played on the small screen, the rather transgressive aspect of OItNB is that it not only reclaims the gritty strength of its incarcerated characters but balances it out with a deeply empathetic engagement with their vulnerabilities. Gloria may sass her workmates in the kitchen, but the pain of her past domestic abuse looms over her every movement within the prison — as does the knowledge that she'll be unable to mother a child who's already getting in trouble outside.
Ahead of the show's second season, Leyva put it more simply: "I don't think we've ever had five, six Latinas in a show this huge worldwide. We haven't." That in itself was revolutionary, and made it possible for us to meet a skinny goth Latina chick who loves the Smiths, a curvy first-generation pregnant girl who cannot speak Spanish and even a clearly troubled but darkly funny inmate who has raunchy exchanges with her boyfriend Diablo — all in the same show.
No longer mere whores or virgins, mere mothers or girlfriends, Flaca, Gloria, Daya, Maritza, Aleida, Blanca and Maria show us the breadth of the Latina experience on screen, in all its complicated and unapologetic glory. That, more than anything, is Orange Is the New Black's lasting legacy.