Demi Lovato Tweets Powerful Statement About Orlando Shooting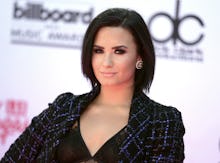 Two days after Sunday's deadly shooting at a gay nightclub in Orlando, Florida, that killed 49, singer Demi Lovato posted a powerful statement on Twitter.
"There are no words for how upset I've been since Orlando," Lovato wrote. "I cry for the victims, ache for the families and have immense admiration for the LGBTQ community and their resolve in absorbing this horror and uniting with strength and fearlessness."
"Stay strong," Lovato wrote. "We stand with you."
In a second post addressing the massacre, Lovato called for stopping the cycle of anti-LGBTQ attacks. 
"We hurt," she wrote. "We mourn. We argue. We settle." 
"We need to stop the cycle." 
Lovato has a long history of fighting for LGBTQ equality. Just last month at a performance, she wore a shirt that aligned her with the efforts of the transgender community. She and fellow artist Nick Jonas were also among those who canceled their shows in North Carolina following the passage of HB2.
Read more: