One Statistic Shows How the Orlando Shooting Has Swayed Public Opinion on Gun Control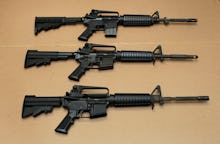 According to a new CBS News poll, 57% of Americans are now in favor of a federal ban on assault weapons like the one gunman Omar Mateen used to kill at least 49 at Orlando gay club Pulse on Sunday.
CBS reported the number is up 13 percentage points from a similar poll they conducted in December, following the San Bernardino mass shooting. Still, the latest poll reveals the issue of gun control remains starkly divided on party lines, with 78% of Democrats supporting a ban but only 45% of Republicans declaring the same. When it comes to whether gun owners should be required to pass universal background checks, both Republicans (92%) and Democrats (97%) were overwhelmingly in favor.
While the new data may represent a split in attitudes toward gun control in the most recent past, the poll shows support for a nationwide ban on assault weapons has steadily decreased over time. In 1994, 78% of Americans surveyed favored a ban; in 2000, 67%; in 2009, 54%; and in 2011, 63%.
What's more, history has shown enthusiasm for pursuing gun control legislation will diminish over time in the months following a mass shooting. On Tuesday, ThinkProgress created a Google Trends graph, revealing that despite the spiked interest in gun control amid tragedies, it will eventual return to its default state — very low — until the next tragedy.
Politicians like Connecticut Sen. Chris Murphy, are trying to fight Americans' selective amnesia. On Wednesday, Murphy began a filibuster at 11:21 a.m. Eastern on the Senate floor to call for action on gun control. 
"We've got to find a way to come together," said Murphy. "Now I don't know how long this will take but I'm going to stand here and hold the floor while we give time to our colleagues to try and find a path forward."   
Read more:
Correction: June 15, 2016