How to Get Away With Having a Bloody Mary for Dinner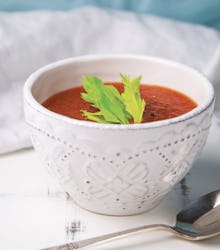 Bloody Marys — the inimitable tomato juice-based cocktail — are a morning favorite. They are a staple of bottomless brunches, and for good reason (re: they're delicious).  
While the cocktail can feel like a meal on its own — especially when adorned with over-the-top garnishes — Bloody Marys don't exactly make for a proper dinner option. That is, unless you transform the drink into a delectable soup. And no, that doesn't mean dumping vodka into tomato soup like 30 Rock's Jenna Maroney and calling it a day.
Writer Jaya Saxena offers up a recipe for Bloody Mary Soup in her new cookbook The Book of Lost Recipes. The soup was served at the Exchange Restaurant, a restaurant in New York City where women gathered from 1919 to 1980 to "eat well and inexpensively and to be seen," Saxena wrote. While it looks like tomato soup with a celery garnish, it has much more flavor.
The recipe has many of the same ingredients as the cocktail, including tomato juice, celery, salt, lemon juice and Worcestershire sauce. All of it's added to a hot pan with butter and onion.
 Like a proper Bloody Mary, the soup does indeed contain vodka. But, no, the soup won't get you drunk, because the alcohol cooks out. Why bother with the booze at all? "The vodka adds bite without any real alcohol content," Saxena wrote. 
The soup's easy on the jaw, too. While it offers all the celery flavor of a bloody, you won't have to chew a cumbersome stalk that usually garnishes the drink. The best thing of all? No one can judge you for slugging (or spooning) back a Bloody Mary at 7 p.m. on a weekday. 
 Check out the full recipe for Bloody Mary soup in full, below: 
Exchange Restaurant's Bloody Mary Soup
Serves 6
• 2 tbsp (30 g) butter
In a large saucepan, melt the butter over medium heat. Sauté the onion and celery in butter until the onion begins to caramelize, about 15 minutes. Add the tomato puree and sugar and stir together for a minute, then add the tomato juice and bring to a simmer. Let simmer for 8 minutes, and add the remaining ingredients. Strain, then return to the saucepan and bring to a boil. Serve hot with another dash of Worcestershire sauce on top.
The Book of Lost Recipes is available in stores now.