This Senator Is Fed Up With Gun Violence — and He's Filibustering Until Republicans Act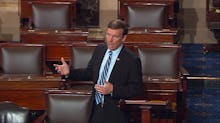 Senate Democrats, led by Sen. Chris Murphy of Connecticut, took over the Senate floor on Wednesday to protest what they call a lack of action on gun control in the wake of this weekend's mass shooting in Orlando, Florida.
Murphy, who has been a vocal gun control advocate since the Newtown shooting rampage in his home state that killed dozens of elementary school students, began speaking at 11:21 a.m. Eastern. And, along with his Democratic colleagues, the senator will continue speaking until Republicans compromise on gun reform legislation.
Read more: Opinion: With Our Gun Laws, Mass Shootings Aren't "Unimaginable" — They're Inevitable 
"I've had enough and I just couldn't bring myself to come back to the Senate this week and pretend like this is just business as usual," Murphy said, according to the Capitol Hill newspaper Roll Call. "We've got to find a way to come together. Now I don't know how long this will take but I'm going to stand here and hold the floor while we give time to our colleagues to try and find a path forward."   
A number of other Senate Democrats have joined the filibuster, including Sen. Cory Booker of New Jersey and Sen. Dick Durbin of Illinois, among others. 
Democrats are currently pushing for a law that would ban those on the FBI's terrorist watch list from being able to purchase guns.
The legislation has already been introduced by Sen. Bill Nelson of Florida, whose state is reeling from the worst mass shooting in American history, when a man who had been investigated for potential terrorist ties purchased an assault weapon and used it to kill at least 49 and injure more than 50 others at a gay nightclub in Orlando.
Republicans appear more open to the idea after the attack.
Presumptive Republican presidential nominee Donald Trump is meeting Wednesday with the National Rifle Association to talk about the idea of banning those on terrorist watch lists from purchasing guns.
And Republican senators, who blocked similar legislation late last year, also appear ready to meet at the negotiating table. 
"There's no debate that we both want to keep guns out of the hands of terrorists. We want to make sure it's done in a constitutional way," Sen. John Cornyn of Texas told Roll Call.