Donald Trump Supporters Got Tricked Into Arguing With an Ass Bot Named "Assbott"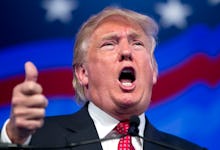 On Tuesday, a number of Donald Trump supporters spent hours debating a Twitter user going by the handle "@assbott." What they didn't realize was that the ass bot in question was, in fact, a bot.
@assbott posts under the display name of "Pissball Crank," a reference to right-wing National Review Online blogger Dan McLaughlin (@baseballcrank), who accidentally went viral this year due to his strange, angry baseball-themed Twitter avatar. Everything it posts is automated, but the bot started feuding with Trump's supporters after its creators set it to instantaneously reply "Delete your account." to every Trump tweet.
"@assbott is the brainchild of a Kentucky man named Forrest, who identifies himself as @nasboat on Twitter and declined to give his last name," reported the Daily Beast on Wednesday. The bot pulls from @nasboat's tweets, but was created by programmer Jack Kirkland (who goes by @AwfulJack on the site).
"I think it was probably the biggest audience currently that we could think of that would be quickly engaged and quick to anger," Forrest wrote to Mic over Twitter DM. "But mostly, it seemed like the funniest thing to do — and it hasn't disappointed. But even responses that aren't angry are funny. I don't know that anger is exactly what I'd be going for ... more just humor and gullibility."
"I would say a majority of what the bot says doesn't make much sense," he added. "The pieces are there, but not in the right order. ... People are so reactionary on Twitter, they don't even take in the message, jumbled or not."
Here's one long, glorious and totally juvenile flamewar between @assbott and @wingedelephant0:
@bopeep67 similarly found themselves in an argument with a piece of code:
Others have just found themselves screaming into the wind.
Here's another few examples provided by the creator, including one in which @assbott tricked a Trump supporter into revealing their views on vaccination and an argument that devolved into epithets:
"They just fire off a reply to the 'idiot' who opposes their candidate," Forrest said over DM.
At times, @assbott itself has seemed more aware of what's going on than the Trump supporters.
Just another reminder to, you know, never tweet.
Read more: