Jennifer Aniston Isn't Pregnant, So Everyone Just Sit Down and Shut Up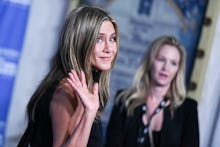 On Wednesday, gossip magazines blew up with the story that Jennifer Aniston was "finally" pregnant with a "miracle baby," citing paparazzi shots of Aniston wearing a bikini and showing off her "baby bump." The only problem? It's not true. Like, at all. 
That's right, America: sit back down, because Jennifer Aniston is still not having a baby. As her representative told Entertainment Tonight on Wednesday: "She is not pregnant. Shame on InTouch for making up the whole story, but this is not the first time they have done so."
Aniston's PR rep is right: This is hardly the first time that rumors of Aniston being pregnant have taken over the celeb news cycle. "Reports" of Aniston being pregnant have been popping for at least ten years, including such choice headlines as "Jennifer Aniston Pregnant With Twins: Her IVF Miracle" and "SHOCK! Jennifer Aniston 'Pregnant With John Mayer's Baby.'"
It's been more than 20 years since the premiere of Friends, the show that launched Aniston's career. She's had to deal with the curse of being America's Sweetheart for longer than iPods or Jaden Smith have even existed. In all that time we've been watching her, she hasn't had a baby — and she's actually told us, multiple times, that she doesn't even want one. 
Maybe it's time for us all to end our concern over whether this woman will incubate a human in her uterus, and just accept the fact that she doesn't even seem to want to have kids in the first place. Our obsession with her body is just an extension of our cultural preoccupation with telling women what they should and shouldn't do with their ladybits, and we all just need to back off.
Aniston herself has even spoken up about how she actually doesn't happen to appreciate the constant speculation surrounding her reproductive organs.
"I don't like [the pressure] that people put on me, on women — that you've failed yourself as a female because you haven't procreated," she told Allure in January. "I don't think it's fair ... This continually is said about me: that I was so career-driven and focused on myself; that I don't want to be a mother, and how selfish that is" and added that "Even saying it gets me a little tight in my throat."
So listen up, America — For anyone who's still wondering if Jennifer Aniston is pregnant, your answer from now until the end of time is: "It doesn't matter. Now go think about something else."