Pizza Delivery Guy Blows Away 'America's Got Talent' With Massive Voice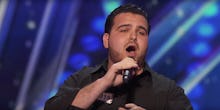 Before Frank Sinatra was the world's most beloved crooner, he was a riveter. Before Dean Martin sang "That's Amore," he was a welter-weight boxer. Before Sal Valentinetti became next prospective star to make it through the America's Got Talent, he was a pizza delivery boy for his cousin's shop.
The 20-year-old Valentinetti stunned onstage at America's Got Talent Tuesday night with a rendition of Sinatra's "My Way," exactly like he said he would.
"I'm gonna entertain yous like you've never been entertained before," he said before starting, sporting a thick Long Island accent. "As a matter fact, I didn't come here to try out. I came here to win." He did just that. His incredibly powerful voice prompted Heidi Klum to hit the golden button to send him him to the next round. 
His rendition even earned accolades from the notoriously critical Simon Cowell. "When you want to sing this kind of music, you can't fake," he said. "It's either in you or it's not. And you're an old soul."
As the confetti rained down, Valentinetti seemed overwhelmed by the audience's rabid enthusiasm. "Today is the first day of the rest of my life," he said.
Watch his jaw-dropping performance in full below.
Read more: