Badass Latina Superhero La Boriqueña Stands With Orlando Victims in Powerful New Image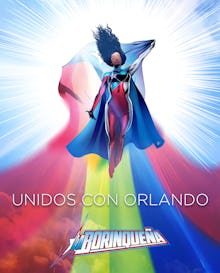 Marvel Comics artist Edgardo Miranda-Rodriguez introduced La Boriqueña, his celebrated Puerto Rican female superhero, to the world in May.
Now, in the wake of the deadliest mass shooting in modern U.S. history — which took place Sunday at the Pulse nightclub in Orlando, Florida — the artist has put his creation to new use: standing in solidarity with the city's LGBTQ Latino community.
Read more: Marvel Shows Solidarity With Orlando Shooting Victims But Misses the Mark
The image below was made by illustrator Dennis Calero, under Miranda-Rodriguez's art direction. It depicts La Boriqueña flying through the air with a massive rainbow-patterned Puerto Rican flag waving behind her. 
Beneath her are the words, "Unidos con Orlando" — which translates from Spanish to "united with Orlando."
"I love art that has a political purpose behind it," Miranda-Rodriguez said in a phone interview with Mic on Wednesday. "I look at this incident as a hate crime against Puerto Ricans and the LGBTQ community ... [and] the very fact that La Boriqueña exists makes her political."
The image stands as a moving statement of solidarity following a night of horror and days of mourning for the 49 people who were killed in Sunday's attack.
Calero and Miranda-Rodriguez's image is especially potent considering the demographics of those targeted: Sunday's shooting occurred at a popular local gay club on Latin night — an evening devoted to celebrating Latino music and culture — and, per reports, a staggering number of those killed were Hispanic.
For the creator and former activist, this made it important for him to speak out about this tragedy and show love to a city still reeling from the devastation it has caused.
"I thought it was my responsibility to create something to add to the healing," said Miranda-Rodriguez, who grew up moving between New Jersey, Manhattan, Puerto Rico and Brooklyn, and does not identify as LGBTQ. "My message is not only healing but, now more than ever, we need action."
In recent months, the Puerto Rican diaspora has seen its fair share of upheaval, Miranda-Rodriguez added. Not only did Sunday's shooting occur on Latin night immediately before New York City's famed Puerto Rican Day festivities, it comes on the heels of a $72 billion debt crisis that has devastated the island nation and caused it to lose more than 50,000 residents a year for the past decade.
He explained that at a time like this, La Boriqueña can function as more than just a comic book character — she's a symbol of strength and a love letter to her people as well.
"There's a hunger and a need for a symbol like this," Miranda-Rodriguez said. "And I think it falls on the artists to do something about it."