iOS 10's Invisible Ink Feature Is Stealthy AF — Here's How to Send a Hidden Message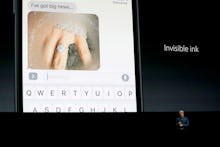 Apple teased the future of messaging during its Worldwide Developer Conference this week. The iOS 10 update is going to change the way you text (and sext) — and one feature in particular, invisible ink, looks damn cool if you're into discretion.
Read more: 
Invisible ink lets you message words or a photo that look like scattered dots until you swipe over it, revealing the hidden message. After the recipient opens it, it'll default back to the mass of flecks. Covert as hell. One way this could've been more covert is if Apple required your fingerprint to open the messages.
Having trouble? If you've downloaded iOS 10 and invisible ink isn't working for you, there's a simple solution. 
Invisible ink vs. Snapchat
No, invisible ink is not like Snapchat — the message doesn't destruct after reading — but it doesn't remain visible for long. You'll have to keep swiping over the dots to read it, so if you want to keep personal messages obfuscated (nudes), Invisible Ink affords you more discretion than your average iMessage. 
Here's how to send an invisible ink message with iOS 10
Type out your message or choose the photo you want to send. 
Then 3D Touch, push it real good, the send arrow to pull up the new bubble effect options. 
From there, you can choose the invisible ink feature. Press that, and it'll apply the inconspicuous effect to your message. 
Use it wisely. 
Oct. 5, 3:12 p.m.:This story has been updated. 
Read more: