Marvel Shows Solidarity With Orlando Shooting Victims But Misses the Mark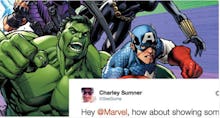 Since Sunday's mass shooting at Pulse nightclub in Orlando, Florida, dozens of companies have posted inspiring messages and images showcasing their solidarity with the victims and the LGBT community. 
Among the brands posting on social media was Marvel Entertainment, one of the best-known comic and entertainment companies in the world. Marvel posted an image on Twitter Tuesday depicting the characters of the popular superhero team The Avengers: Captain America, Thor, Iron Man, Black Widow, The Hulk and Hawkeye.
"Orlando United," the tweet read, with the superheroes juxtaposed against a bright, colorful background reminiscent of the LGBT rainbow flag.   
However, in attempting to stand with the LGBTQ community, Marvel failed to include LGBTQ-identified characters that exist within its own comic universe. 
Twitter user Charley Sumner took matters into his own hands. After he pointed out that all of the characters in Marvel's image were straight and cisgender, he made another he felt was more representative. 
"Hey Marvel, how about showing some LGBTQ characters when you stand with Orlando united?" he said in a tweet. "Here, I fixed it for you."
The image show queer superheroes from Marvel's Young Avengers team, a miniseries created by Kieron Gillen and Jamie McKelvie: Sumner's image depicts shape-shifter Hulking, the reality-warping Wiccan, the former X-man Prodigy, the super-powerful Marvel Boy, the bow-and-arrow-wielding Kate Bishop/Hawkeye and the super-strong Miss America Chavez. 
Some websites have called the Young Avengers "the first-ever mainstream all-queer superhero team," a huge step in the right direction for LGBT representation in comics.
Throughout the 15-comic miniseries, the teenage characters have to learn not only how to wield their awesome superpowers, but embrace their sexuality as well. "Everyone gets to define their own sexuality," comic creator Kieron Gillen explained in an interview.
Another Twitter user saw the image Marvel posted and wrote to Marvel senior communications manager Joe Taraborrelli: "I'm honestly surprised you didn't use the Gillen and McKelvie Young Avengers for it since they [are] mostly LGBTQA+ individuals."
"All of our heroes are allies," Taraborrelli responded.