These Lyrics From Tupac's "Changes" Are Even More Haunting 20 Years After His Death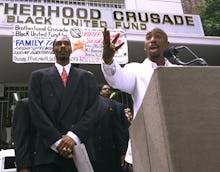 Through his 25 years on earth, Tupac Shakur lived many lives. He was a street-wise poet who spent time as a backup dancer, a thug life provocateur and Machiavelli scholar. The common denominator with each metamorphoses was his commitment to having his art make a difference in the world. 
Yet, according to Shakur's iconic posthumous hit "Changes," he did not feel he'd made a dent. Listening to the song on what would have been his 45th birthday, it's impossible to ignore how eerily contemporary the song is nearly two decades after his death. Down to the most minute rhyme, the specific battles Shakur was fighting before he was gunned down in September 1996 are the same his politically-minded artists are fighting today — perhaps with slightly less lyrical skill.
Hip-hop's best inside joke is that Shakur never died. According to the myth, Shakur, sick of the game, faked his own death and went underground where he's continued to record undisturbed. Dave Chappelle satirized the myth in one of the best skits from his lost episodes; Clickhole flipped the joke on another gangster rapper brilliant 2014 article. 
That joke makes it easier to come to terms with how mystically prescient Shakur's observations have remained.
"It's war on the streets and a war in the Middle East," he raps out of the gate on the third and most cutting verse of "Changes." "Instead of war on poverty/ They got a war on drugs so the police can bother me."
Elsewhere in the song: "The penitentiary's packed, and it's filled with blacks." The stats play out. 
"And although it seems heaven-sent," he spits in the second verse, "We ain't ready to see a black president." Voters did manage to re-elect Barack Obama twice. But if the way they respond to those terms is to open the White House to a Drumf regime, it's clear racism in America is not "over."
None of this is to say there hasn't been progress. Shakur was years ahead of his time, as all visionary artists are. Politics have started to catch up and turn these lyrics into national conversations.
The same issues Shakur discusses in "Changes" —  racial inequality and systemic violence both at home and abroad, the discriminatory nature of  poverty — stood at the core of this year's presidential debates. These issues stand at the heart of the Black Lives Matter movement, which has made its presence felt in this election cycle. These issues still appear on the most urgent hip-hop albums, such as Run the Jewels' chaotic dissertations, Beyoncé's divisive Lemonade or Kendrick Lamar's 2Pac-indebted To Pimp a Butterfly.
"It's time for us as a people to start making some changes/ Let's change the way we eat, let's change the way we live/ And let's change the way we treat each other" — Tupac Shakur, "Changes"
"It's frustrating to know what he said is hard to comprehend," Lamar said in a Konbini video, in which he was asked to listen to and respond to Shakur's "Changes." "He's saying everything that we saying today ... When are we going to understand that we are put on earth to love? ... I really think that war going to keep going on, frustration going to keep going on, anger going to keep going on, until we finally go back down to the simplest word: love."
Nothing is easy about changing the way we live, or changing the way we treat each other — however, that's where Shakur insisted we start. "Changes" will always be here to remind us of that mission and make it feel worth the struggle. As long as we continue to respect hip-hop's elders, that will never change.