Firefly Festival 2016: Videos of Best Performances and Sets From 3-Day Concert Series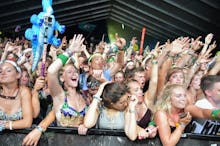 The fifth annual four-day Firefly Music Festival begins at 5:15 p.m. EST on Thursday and will run until Sunday at the Woodlands in Dover, Delaware. More than 100 bands are scheduled to play this year, according to the News Journal. 
According to the festival's website, "Along with headliners Mumford & Sons, Kings of Leon, Florence & The Machine, and Deadmau5, the lineup also includes Ellie Goulding, Disclosure, Blink-182, Death Cab for Cutie, M83, Tame Impala, The 1975, A$AP Rocky, Of Monsters and Men, Major Lazer, [and] Chvrches."
Blink-182 will be previewing their new album "California," which is not set for a worldwide release until July 1.
The 2015 Firefly gathering drew an expected attendance of 90,000 people, with this year's festivities expected to draw roughly the same number of people. Additions for 2016 include a "new, permanent VIP loft" capable of holding 1,400 people (with three private cabanas), an open-air bar area, better drainage, new stages and more parades, reported the News Journal.
In 2015, organizers were forced to evacuate attendees on its third day due to inclement weather conditions; this year, the five-day forecast for Dover predicts rain on Thursday and Friday but bright and sunny conditions throughout the weekend.
Day One
The night was lit on fire with performances from international DJs, with audiences celebrating into the early hours of the morning:
Some artists took a moment of silence to stand in solidarity with the victims of the Orlando shooting massacre that killed 50, including the gunman:
Day Two
On Friday, the crowd flocked to the main stage to kick off a day of music with The Wombats:
During her Firefly performance, Ellie Goulding dismissed rumors that she's dating Prince Harry and took time to have some fun with fans at the festival.
Tame Impala unleashed a colorful confetti explosion over the crowd and day two headliners Kings of Leon wowed with "Crawl."
Day Three
Florence & the Machine were among Saturday's big acts, appearing on stage with a pride flag in support of the victims of the recent Orlando attack.
Chvrches, St. Lucia and Fetty Wap also played.
While Deadmau5 gave fans a light show.
Chris Riotta and Claire Lampen contributed additional reporting to this story. 
Read more: