Hoping for a Hillary Clinton-Bernie Sanders Ticket? There's Bad News for You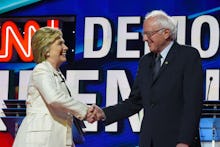 Presumptive Democratic presidential nominee Hillary Clinton is not vetting Sen. Bernie Sanders for the vice presidential slot on her ticket, according to a report in the Wall Street Journal.
In an interview Tuesday with Telemundo, Clinton demurred about whether Sanders would be on the list of candidates she was considering for the role.
Read more: 2016 Washington, D.C. Primary Results: Hillary Clinton Beats Bernie Sanders for Last Time
"I haven't even begun to sort all that out," she said, per the Journal. "There are a lot of really qualified, dynamic candidates, I'm sure, to be considered for vice president."
But Democrats interviewed by the Journal said Sanders is not on the list. And advisers close to Sanders confirmed the Vermont senator is neither interested in the role, nor was he expecting to be considered, according to the report.
But the news is likely to upset his fervent base of supporters, who held out hope that Sanders would have an official spot on the 2016 presidential ticket.
Welcome news to Sanders' ultra-progressive supporters is that Sen. Elizabeth Warren is on the list of those the Clinton campaign is vetting for the role.
Warren's star has risen in recent weeks, as she has waged spirited attacks on presumptive Republican nominee Donald Trump. Democrats say Warren could ignite excitement in reluctant Sanders supporters, who do not view Clinton as progressive enough.
Clinton and Warren met last week at Clinton's home in Washington, D.C., stoking the veepstakes chatter.
And Warren declined to rule out the possibility of being on the ticket in an interview with Mic in May.
Others on the list include Sens. Cory Booker of New Jersey, Sherrod Brown of Ohio and Tim Kaine of Virginia; Housing and Urban Development Secretary Julián Castro; Labor Secretary Tom Perez; Reps. Xavier Becerra of California and Tim Ryan of Ohio, and Los Angeles Mayor Eric Garcetti, the Journal reported.