Taylor Swift Was Spotted Making Out With Tom Hiddleston and People Are Losing It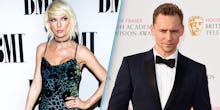 Taylor Swift — whose 15-month relationship with Calvin Harris recently suffered an abrupt demise at the hands of a disgruntled inflatable swan — has been spotted locking lips with English actor Tom Hiddleston atop a large rock by the sea.
There are many photos, courtesy of British tabloid The Sun.
This is kinda huge!
In the two weeks that have elapsed since the Calvin Harris split, Swift has been on a mysterious social media hiatus that everyone assumed was on account of her being wrapped in a cocoon as her next album gestated.
But evidently that is not the case.
It's also worth noting that Tay's breakup with Calvin may not have been as amicable as we once believed. His whole "what remains is a huge amount of love and respect" post-breakup tweet has now been deleted, along with pretty much every trace of the couple's social media presence. All those picture-perfect Instagram posts? Gone! Calvin even unfollowed her on Twitter. That disgruntled inflatable swan really did a number on them.
In any case, people have been freaking out about Taylor's waterfront make-out sesh on Twitter. Obviously.