Amber Heard Just Revoked Her Request for Spousal Support From Johnny Depp — Guess Why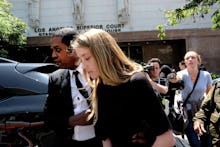 The "Amber Heard is a gold digger" chatter isn't going to fly much longer. 
Johnny Depp's fans have dismissed his soon-to-be-ex-wife's allegations of domestic abuse as an attempt to drain his bank account, citing as evidence Heard's request for spousal support when filing for divorce from the actor. The actress had also filed a restraining order against Depp back in May. 
As a result of the backlash, Heard's lawyer filed a motion Monday revoking her request for spousal support because that (pretty standard) request has spawned vitriolic victim-blaming, and directed attention away from the real matter: a pattern of domestic violence.
"In light of the coordinated false and negative media campaign falsely depicting my attempts to attain a CLETS [California Law Enforcement Telecommunications System] Domestic Violence Order as being financially motivated, I am hereby withdrawing my request," read Heard's statement. 
The money, which would've totaled a monthly $50,000 was being "used against me to distract and divert the public away from the very serious real issue of domestic violence," Heard said.
In a court appearance on May 27, Heard appeared with a bruise on her cheek, saying she had "endured excessive emotional, verbal and physical abuse from Johnny [Depp]" during their brief marriage. The bruise had resulted from an argument with Depp, in which he allegedly tore her phone out of her hand and hurled it at her face, then grabbed her, pulled her hair, hit her and shouted at her. 
According to Heard, it was far from the first time something like that had happened. 
A restraining order hearing is scheduled for Friday; according to People, Depp's attorneys have moved to block Heard's witnesses from taking the stand. Faced with accumulating evidence, it becomes harder to argue in Depp's favor. As Heard's friend and witness, iO Tillett Wright, wrote in the 30-year-old actress' defense, "How much evidence does a woman need to present?!"
Read more: