English Soccer Supporters Harrass Children at Euro 2016, and Twitter Isn't Having It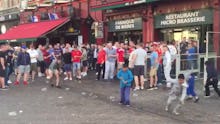 English soccer isn't just disappointing to watch on the field, their fans can be just as abhorrent, too. 
Video footage has emerged from Lille — one of the cities in France hosting soccer matches for Euro 2016 — showing English soccer fans harassing street children who were asking for money. The videos purportedly show what has been described as "little Muslim refugee kids" having coins hurled at them by fans, as others looked on in laughter.  
Additionally, a journalist for the Financial Times tweeted that he saw English fans in Lille forcing a 7-year-old to chug a beer in exchange for money. He later clarified in two additional tweets that they also gave the kid a cigarette, but were disappointed when he refused to smoke it and stamped it out on the ground. 
The reaction on Twitter has mostly condemned the fans, though some have callously suggested that the children ought to be grateful that they're getting money at all. For the most part, though, Twitter agrees it's an embarrassing look for the country. 
England's fan base has already been warned about inciting violence at the tournament. A similar offense could have the team booted from the competition — so they're already on thin ice. However, knowing the England team's reputation for falling apart at major soccer tournaments, their stay should be a short one regardless. 
Read more: