Tupac's Long-Awaited Biopic 'All Eyez on Me' Finally Gets Its First Trailer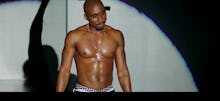 Over the past 20 years since Tupac Shakur's death, fans have had to watch all of his contemporaries and competition immortalized in epic biopics. Biggie got Notorious. NWA got Straight Outta Compton. But nothing for the godfather who actually managed to hold down a successful acting career of his own during his life. However, after years of false starts, it looks like Shakur will finally get the blockbuster his fans were promised long ago.
Thursday, on what would have been Shakur's 45th birthday, a trailer for the long-awaited Tupac biopic All Eyez on Me surfaced. Watching the trailer, it seems West Coast rapper The Game was not speaking in hyperbole when he said "Tupac movie is the real deal, shit make that Biggie movie look like a cartoon."
The biopic has been plagued by obstructions like production delays, director switches and legal battles for years. The rights to the biopic reverted back to Shakur's estate in 2015, and Benny "Boom" Douglas, the film's third director, stepped in to helm the film in November. In telling Tupac's story, Douglas plans to discuss how the legend has had such a lasting cultural impact from far more than just his music career.
"[Racism] is a vicious cycle, and Tupac was a victim of that; he witnessed police brutality," Boom told Billboard. "It's not just a biopic about a musician: It's about a revolutionary. It's the story of a martyr, someone who died for his cause."
The film will serve as the big-screen debut for Demetrius Shipp, Jr., who will play Tupac. Actor Jamal Woolard will also reprise his Notorious role as Biggie. The film is slated to premiere November 11.