The Science Behind Adult Coloring Books Explains Why They're So Therapeutic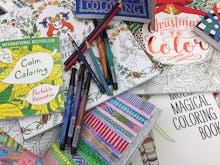 Coloring books for adults have grown exponentially popular — to such an extent that they're keeping the publishing industry afloat. Besides the fun of feeling like a 5-year-old again, the coloring books are said to promote mindfulness and reduce stress. It's no wonder everyone loves them. 
Why is taking a crayon to paper such a meditative experience? Researchers at Drexel University may have an explanation — and it has to do with your hormone levels. 
In a recent study published in the journal Art Therapy, they found "making art can significantly reduce stress-related hormones in your body," according to a press release. What's more, you don't have to be an experienced artist to feel those stress-relieving effects: Whether you draw stick figures or paint elaborate landscapes, everyone benefits equally.
The study: The researchers had 39 adults take part in 45 minutes of art-making with markers, paper, modeling clay and collage materials, according to the release. 
Before and after the art-making, researchers measured participants' levels of cortisol — otherwise known as the stress hormone. 
The results were impressive: 75% of the participants had lower cortisol levels after 45 minutes of art-making. 
In a written testimony, one participant described the exercise as "very relaxing." 
"After about five minutes, I felt less anxious," the participant wrote, according to the release. "I was able to obsess less about things that I had not done or need[ed] to get done. Doing art allowed me to put things into perspective."
Time to go buy some crayons and colored pencils.
Read more: