Gay and Bi Men Can't Donate Blood and Apparently Some Congress Members Didn't Know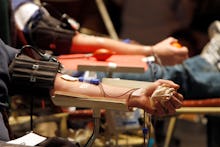 The Food and Drug Administration has barred "men who have sex with men" from donating blood since the rise of the HIV/AIDS epidemic in the 1980s. It turns out some Congress members don't even know that. 
The Daily Beast spoke to members of Congress on World Blood Donor Day on Tuesday about the blood ban, which the FDA revised in December 2015 to allow gay and bisexual men who go one whole year without sex to donate blood. The Daily Beast said the question elicited "puzzled looks and refrains of 'please-call-my-office.'"
"I don't know about those topics off [the top of] my head," Tennessee Republican Sen. Bob Corker told the Daily Beast. He then referred the magazine to his spokesperson. 
Republican Sen. Ron Johnson from Wisconsin told the Daily Beast that it was "an issue I've never even really considered." 
Some lawmakers did take issue with the ban, especially in the wake of the tragic shooting at Pulse nightclub in Orlando. 
Thousands lined up to donate blood after the massacre. However, men who have sex with men were still banned from helping to save the lives of their own community. 
"There were so many gay victims involved with the attack, and so many of their loved ones were moved to step up and help their fellow Americans — but were unable to," Colorado Rep. Jared Polis said to the Daily Beast.  "All of the pretenses of this policy are gone — it was never based on science in the first place." 
Unfortunately, according to the Daily Beast, Congress has not introduced a single bill to force the FDA to change the blood ban. 
White House staff told reporters on Tuesday there are no plans for the administration to step in and change the ban, leaving many who want to help those in and outside the LGBT communities without the opportunity to do so.
Read more: HIV-Positive Phoenix Man Was Allegedly Struck by His Girlfriend's Car for Revealing Status