Remastered 'Crash Bandicoot' Games Are Coming to PS4 — and Twitter Is Freaking Out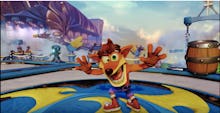 The wacky, crazy-eyed marsupial of our '90s nostalgia is coming back to the PlayStation 4. At E3, Sony has announced that they've partnered with Activision to bring the popular classic Crash Bandicoot back to their platform with a series of remastered versions of the first three games: Crash Bandicoot, Crash Bandicoot 2: Cortex Strikes Back and Crash Bandicoot: Warped.
Additionally, the character will appear in Skylanders Imaginators — which pits Crash alongside Spyro from the Spyro the Dragon series and the forthcoming Spyro's Adventure — which will be released on the PS4 in October. 
As for the remastered Crash Bandicoot games, they'll be available on the PS4 in 2017. In the meantime, fans on Twitter are freaking out — clearly, everyone is ready to relive this piece of the '90s, which for many served as their quirky introduction to video games. 
You can check out the trailer for Crash's forthcoming appearance in Skylanders Imaginators below: 
Read more: