Nick Minaj Featured on DJ Mustard's "Don't Hurt Me" — Best Lyrics and Where to Listen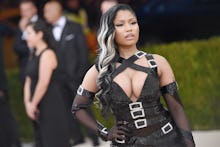 Nicki Minaj has taken a bit of a step back from music since dropping The Pinkprint back in 2014. But, when confronted with the right track, she's found the time to drop some bars every now and then.
Thursday, Queen Minaj appeared on DJ Mustard's newly released "Don't Hurt Me" alongside R&B singer Jeremih. 
Over two verses, a pre-hook and a hook she offers up the latest in a long line of Minaj sexual innuendos, relaying how she just wants to get her "cake ate." She also drops some bars about the current NBA Finals matchup, showing some respect for LeBron James and the Cavaliers: "Even if you was Curry, bitch, there's still a LeBron."
Minaj's fans have been eating up every word. 
Weaves off to the Queen.
Currently, the track is only available in full via Tidal, but you can listen to Minaj's verses isolated below, courtesy of @NickiLatestNews.
Read more: