Watch Sal Valentinetti's 'America's Got Talent' Performance Blow the Judges Away: Video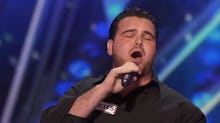 Sal Valentinetti, a 20-year-old pizza delivery guy from Long Island, New York, charmed the judges this week on America's Got Talent — and delivered a powerful performance of the Sinatra standard "My Way" that earned him a standing ovation and an automatic pass through to the live shows.
Valentinetti started off by charming the judges and talking about his family.
Before launching into his powerhouse performance.
By the end, he had completely won the judges over — Heidi Klum even had to get a hug in.
Klum was so completely enamored with with Valentinetti, despite (or maybe because of?) their weird flirty banter, that she hit the "golden buzzer," sending him straight through to the show's final live rounds.
Bada-bing, what a night.
Watch the whole performance here:
Read more: