Who Is Thomas "Tommy" Mair? What We Know About Jo Cox Shooting Suspect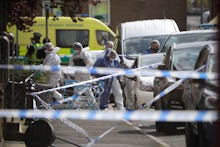 Thomas Mair was arrested as the chief suspect in the murder of British MP Jo Cox on Thursday. Mair, a 52-year-old gardener, was a local of Birstall, England, where the crime occurred, according to the Guardian. The Labour MP was meeting members of her constituency when she was attacked; she died in the hospital from her injuries, West Yorkshire police constable Dee Collins confirmed in a statement.
"Clearly, as this inquiry is at an early stage and we have an individual under arrest, we are not in a position to discuss any motive at this time," Collins said, according to the Guardian, adding, "We are not looking at anyone else in connection with this crime." Collins did not name Mair directly, but the Guardian reports Mair was the suspect arrested.
The incident occurred outside Birstall's library, BBC reported. Eyewitness and local cafe owner Clarke Rothwell told the BBC that a "loud popping noise that sounded like a balloon burst" alerted him to the attack.
"When I looked round there's a man stood there in his 50s with a white baseball cap on and a jacket with a gun, an old fashioned looking gun in his hand," Rothwell said. "He shot this lady once and then he shot her again, he fell to the floor, leant over shot her once more in the face area. Somebody tried to grab him, wrestling with him and then he wielded a knife, like a hunting knife, just started lunging at her with a knife half a dozen times. People were screaming and running from the area."
Another witness, Hithem Ben Abdallah, told the BBC that the attacker, whom Abdallah also said was wearing a white baseball cap, was involved in an altercation with another man before Cox stepped in. The man in the cap produced a handmade-looking weapon from his bag and began firing, according to Abdallah. The other man mentioned is presumed to be the 77-year-old whom Collins said was injured in the attack.
Another witness told the Guardian that he heard the shooter shout, "Britain First!," the name of the country's far-right nationalist party, but that allegation is unsubstantiated. Given that Cox was a strong supporter of Britain remaining part of the E.U., political motivation could make sense, although the party denies a connection.
Here is Mic's original coverage of Cox's death: 
Jo Cox, a Labour party member of the British Parliament, is dead after being shot and stabbed multiple times during a visit to her constituency in West Yorkshire.
The Guardian reported witnesses seeing Cox involved in an altercation between two men before being airlifted by helicopter to a nearby hospital. Police are investigating whether the suspect, named locally as Tommy Mair, shouted "Britain First" before firing at the politician. Another man was reportedly injured in the attack. 
Britain First is a nationalist group that calls itself a "patriotic political party and street defense organization."
U.K. Prime Minister and head of the Conservative Party David Cameron responded to the news on Twitter, calling Cox a "committed and caring MP."
Police arrested a 52-year-old man in the area who might be linked to the attack, CNN reported. "At 12:53 today, police were called to a report of an incident on Market Street, Birstall, where a woman in her 40s had suffered serious injuries and is in a critical condition," a police statement said. 
It isn't the first time someone from Cox's party has been attacked: In 2010, Labour MP Stephen Timms was stabbed while in London. 
Labour party leader Jeremy Corbyn expressed his sadness for Cox on Twitter Thursday. 
"Utterly shocked by the news of the attack on Jo Cox," Corbyn wrote. "The thoughts of the whole Labour Party are with her and her family at this time."
Cox was voted to represent Batley and Spen in Yorkshire in May 2015. She supported the U.K. remaining in the European Union — a referendum going up for a vote next week, CNN reported. Her last tweet from Friday stated, "Immigration is a legitimate concern, but it's not a good reason to leave the EU."
Read more:
Correction: June 16, 2016