Who Was Jo Cox? All the Positions the British Labour Party PM Fought for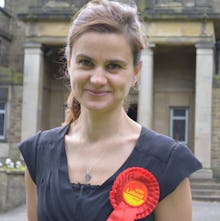 British Member of Parliament Jo Cox was killed in her constituency of Batley and Spen in West Yorkshire Thursday afternoon. According to eyewitness accounts, suspect Thomas Mair yelled "Britain First!" — the name of a far-right political party — as he repeatedly shot and stabbed her. Britain First has condemned the attack in a video on Facebook.
The 41-year-old mother of two was reportedly leaving her weekly open "office hours," where constituents were free to stop by and discuss their concerns. 
In the wake of Cox's death — and the potential political motivation for her apparent assassination — here is a look at where the MP stood on the big issues of her time:
Cox was one of the more progressive MPs of the U.K.'s left-wing Labour Party. Before becoming a politician, she was an Oxfam policy analyst and advisor to Sarah Brown, the wife of then-Labour Prime Minister Gordon Brown.
She fiercely advocated for the British government's acceptance of 3,000 Syrian child refugees. And she encouraged her constituents to vote against the "Brexit" — the upcoming referendum on whether or not the country should remain in the European Union.
"I believe that the patriotic choice is to vote for Britain to remain inside the EU where we are stronger, safer and better off than we would be on our own," she wrote on May 26 in her monthly columns for local newspapers Batley News and the Spenborough Guardian.
"Remaining gives us far more stability and security. We benefit from a stronger economy," she continued. "Three million British jobs are linked to our trade with EU countries. We benefit from investment of £24 billion a year and families benefit from lower prices. The Confederation of British Industry says being in the EU is worth £3,000 a year for every family, a return of almost ten to one on what we pay in."
She's also been a vocal critic of the ruling Conservative Party's efforts to reduce funding of and dismantle the National Health Service, which provides free health care to everyone. The Conservative Party has facilitated piecemeal privatization of the country's health care.
Cox appeared in Parliament on June 8 to express her outrage at the subsequent reduction in the quality of healthcare her constituency has suffered. 
"Staff morale is rock bottom and there have been serious staff shortages — patients have suffered from long waiting times and inadequate care," she said during her address. "Staff numbers and the morale and well-being of staff is inextricably linked to patient experience and clinical outcomes. If you get the former right, the latter will follow." 
"It must get fixed and making sure it get[s] fixed is my number one priority," she added.  
In a similar vein, this week, she supported the Macmillan Cancer Support mobile information center's visit to Batley and Spen, available to those who might otherwise have limited resources or knowledge of cancer. 
"This is a great initiative by Macmillan and I am very pleased to support the important and valuable work they do," Cox said in a statement on the initiative released Monday. "I was delighted to meet up with the team when they came to Batley and Spen and to see so many local people popping in for information and advice."
On Thursday afternoon local time, her husband simply tweeted a photo of her, which, as of this writing, has received more than 14,000 likes and 8,500 retweets. 
June 16, 2016, 1:53 p.m. Eastern: This story has been updated.
Read more: