The 'Wicked' Movie Adaptation Finally Has a Release Date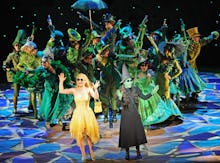 Mark your calendars for "One Short Day" in the Emerald City: Wicked fans finally know when the hit Broadway musical is hitting the big screen.
Universal Pictures' official Twitter account tweeted out the news Thursday afternoon: "The musical phenomenon Wicked comes to the big screen." The release date in question — December 20, 2019.
That's still a ways away, but it's remarkable that the adaptation is finally moving forward. Producers have been in talks for over a decade now. For every bit of news — Stephen Daldry directing; original musical book writer Winnie Holzman penning the script — came another period of waiting. Promises that the musical was coming "soon" never materialized.
Now, finally, Wicked devotees can be confident: The movie is coming. News of who will play Wicked Witch of the West, Elphaba and her rival-turned-best friend Glinda, is likely the next major update fans will get. The producers will need that time, too: Hollywood will have to search far and wide to find a pair like original stars Kristin Chenoweth and Idina Menzel.
Read more: