There Have Been 14 Trans People Killed in the U.S. So Far This Year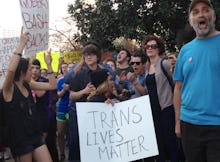 On June 9, a 20-year-old trans woman became the 14th transgender person killed in the United States in 2016 when her body was found in a burning car in New Orleans, Autostraddle reported Tuesday.
The woman, called Goddess Diamond by trans poet and writer Venus Selenite — "We use 'Goddess' in substitution of a trans woman's dead/government name," Selenite explained in a tweet  — is the latest victim in what has already proven to be a deadly year for the trans community.
The disproportionate violence against trans people is hardly limited to this year. According to the Anti-Violence Project, an LGBTQ advocacy group, in 2013, 72% of the victims of hate violence homicides were trans women, and trans people "experience violence at alarmingly high rates." 
According to the Advocate, 2015 was "the deadliest [year] on record for transgender Americans, with at least 21 trans women killed in the U.S. alone."
Many have drawn parallels between the extreme rhetoric surrounding anti-trans legislation — like the bathroom restrictions enacted with North Carolina's controversial House Bill 2 — and violence against trans people. 
Diamond worked at a New Orleans Wal-Mart, Autostraddle reported. Her coworker and friend, George Melichar, told the New Orleans Advocate that Diamond was "very loved." 
"That's what makes this more difficult," Melichar said. "In addition to losing a friend, we lost an LGBT leader."
Read more: 
June 17, 2016, 10:40 a.m. Eastern: This story has been updated.