Latest Updates on the Vanderbilt Rape Case: Brandon Vandenburg Found Guilty on 8 Charges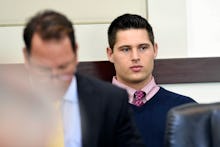 A Nashville, Tennessee, jury needed just four hours to deem Brandon Vandenburg guilty of orchestrating the 2013 gang rape of a woman he was reportedly dating at the time. 
Vandenburg, formerly a football player at Vanderbilt University, faced five counts of aggravated rape, two counts of aggravated sexual battery and one count of unlawful photography. 
Jurors on Saturday found him guilty of each. According to the Associated Press, prosecutors accused the now 23-year-old of "plying [the victim] with alcohol" to the point that she passed out, distributing condoms to a group of his teammates and encouraging them to assault her while he filmed the whole thing. 
Many, many witnesses came out to testify against him.
On Friday, the victim testified for the third time since the case went to court, describing her reticence to get a rape exam because she wanted to protect the perpetrators. Vandenburg's roommate, Mack Prioleau, also took the stand, testifying that he woke up during the rape and although he knew what was happening, did nothing to stop it.  Vandenburg's teammates took the stand as well: As the New York Daily News reported, Jaborian McKenzie told the court that Vandenburg "made sure he was in control" of the assault.
Vandenburg is expected to face a sentence of at least 15 years in prison without parole.  
Vandenburg and another student, Cory Batey, were convicted last year on multiple counts pertaining the assault, those verdicts were overturned when news surfaced that a juror hadn't mentioned that he'd been subject to statutory rape. Batey was convicted for a second time in April and will likely receive the same sentence as Vandenburg, according to the Associated Press.
The verdict comes just weeks after Brock Turner, an ex-Stanford University swimmer, received a light sentence for sexually assaulting an unconscious woman behind a dumpster in 2015. 
According to the Daily News, Vanderbilt hopes the decision "strongly sends the message to victims and to perpetrators that sexual assault will not be tolerated in our communities."
Correction: June 19, 2016
Read more: