It Only Took 24 Hours for Republican Lawmakers to Betray Their Hypocrisy on Tolerance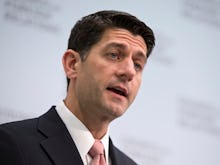 In the aftermath of the mass shooting at a gay nightclub in Orlando that took the lives of 49 victims, Republican politicians shared kind messages to the LGBTQ community and sent the requisite "thoughts and prayers" on social media. 
But in a damning tweet posted by Twitter user TommieWho on Wednesday, the GOP politicians extending words of support are the same politicians that consistently use their power to restrict gay rights.
The two images he shared speak volumes:
On Tuesday, Speaker of the U.S. House of Representatives Paul Ryan tweeted that the targeting of the LGBTQ community in the massacre "rejects who we are as a nation — open, tolerant, free." 
On Wednesday, he was one of the leaders in the House of Representatives who blocked a vote on a bill that would bar federal contractors from discriminating against employees based on gender or sexual identity.
Ryan's solidarity with the LGBTQ community in the wake of tragedy lasted for less than 24 hours.