Majority of Americans Back Donald Trump's Muslim Ban in Post-Orlando Poll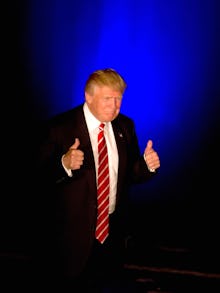 A majority of Americans support presumptive Republican presidential nominee Donald Trump's proposal for a temporary ban on Muslim immigration, according to a new poll — a finding that comes amid mounting fears of terrorism following Sunday's deadly attack on the Pulse nightclub in Orlando, Florida.
The NBC News-SurveyMonkey poll found 50% support for Trump's proposal, with 46% of Americans opposing his call for a "total and complete shutdown" of foreign Muslims entering the United States. Trump first floated the idea in December, after Islamic State-inspired terrorists staged a mass shooting at a San Bernardino, California, social services center, and doubled down on the proposal this week, after gunman Omar Mateen killed at least 49 and injured 53 in Orlando.
Read more: Clinton Rips Trump Over His Orlando Response: "He Has Nothing Substantive To Say"
Hillary Clinton, the presumptive Democratic nominee, has blasted Trump's proposal, noting that the ban wouldn't have affected Mateen, a Queens-born son of Afghan immigrants.
But the ban appears to have become increasingly popular with voters over the past half year. A December poll from NBC and the Wall Street Journal found that 57% of Americans opposed the proposal, with polls in recent months showing voters more divided.
A new race: The NBC-SurveyMonkey poll also found terrorism rising on Americans' list of top priorities. 
According to the poll, 24% now rank terrorism their top concern, just behind jobs and the economy at 29%. In last week's NBC-SurveyMonkey poll, only 12% said terrorism was their chief concern, behind jobs and the economy at 37% and health care at 17%.
The poll's not all good news for Trump, however.
For starters, it's unclear that a greater focus on terrorism will redound to his benefit, despite support for the Muslim ban and some polls showing voters prefer him over Clinton on the issue. Take Trump's response to the Orlando attack, which included a tweet boasting that he "called it" and insinuations that President Barack Obama may be sympathetic to terrorists. It isn't sitting well with voters, who disapprove of his response by a two-to-one margin, according to a CBS News poll this week,
What's more, the NBC-SurveyMonkey poll also found 61% support for tougher gun laws in the wake of the Orlando massacre. Trump, who has signaled openness to banning people on the terror watch list from buying guns, asserted this week that the Orlando attack would have been less deadly if more victims had been armed.