Colorado to Officially Ban Weed Gummy Bears (and Other Gummy Shapes, Like Fish)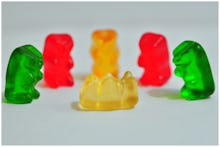 Colorado residents who prefer their Sour Patch Kids and gummy bears laced with a little marijuana may want to to load up on the little candies Supermarket Sweep style.
Colorado governor John Hickenlooper recently signed House Bill 1436, which will make certain weed-infused gummies illegal starting July 1, High Times reported.
Hickenlooper, who's been working to shed the reputation of "stoner governor," approved the bill in order to prevent children from accidentally ingesting the candies. Not all gummy shapes will be banned, however — just ones that are "shaped in a manner to entice a child," the bill states. 
"While common shapes like bears and fish that mimic mainstream candy will be banned, cannabis gummies shaped like stars, weed leaves or other geometrical shapes are still OK to produce," High Times wrote. 
Then again, who's to say rhombus-shaped candy won't pique the interest of a little toddler? Is this basically a call for edible makers to get more creative?
Colorado legalized the commercial sale of cannabis edibles in 2014, according to the Denver Post. Since the move, the state has issued a number of regulations to curb accidental ingestions. Manufacturers must ensure a cannabis product is properly marked with a "THC" label, and if the item can't be physically marked, it cannot contain more than a single serving (10 mg) of THC, 9 News reported. 
House Bill 1436 is the state's first official ban on a specific cannabis edible, however. Critics of the new legislation may argue that the bill is a bit too harsh: In 2014, the Rocky Mountain Poison Control Center received 45 calls related to kids under the age of eight being accidentally exposed to cannabis, Alternet reported. Consider that in 2011, 1,495 calls were made to the same poison control center in regards to children being exposed household cleaning products. 
The bill is significant for any edible gummy lover: Many states take cues from Colorado when crafting their own cannabis-related legislation. If all goes according to past patterns, this bill will likely impact the way places like California and Washington regulate edibles. 
While the whole shape thing seems a bit arbitrary, creating legislation around candy-colored products may be the smart move when it comes to preventing curious kids from putting them in their mouths. Colorful laundry detergent pods, for example, have become a serious risk for children. One children's hospital in Alabama has received more than 700 phone calls regarding kids ingesting this product since 2012, the Alabama Medical Group reported. 
Maybe Colorado should just require the THC-filled candies to come in less eye-catching colors. Opaque couché could be a good tone to start with.
Read more: