Kylie Jenner's Back At It Again With the Problematic Cornrows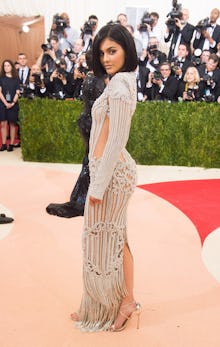 Oh, Kylie. Kylie, Kylie, Kylie. When will you learn? 
For the third time, Kylie Jenner was caught wearing cornrows. Jenner posted a mirror selfie Thursday on Instagram wearing a beige bikini, while also wearing both her signature pout and those damn braids, which have been called out twice before for being culturally appropriative. 
Previously, Amandla Stenberg even weighed in on them, commenting on the first picture of Jenner donning cornrows with, "when u appropriate black features and culture but fail to use ur position of power to help black Americans by directing attention towards ur wigs instead of police brutality or racism #whitegirlsdoitbetter." And now, here Jenner is, wearing her hair like this again. 
Twitter, of course, was on the attack. 
The most troubling thing about Jenner's insistence on wearing a divisive hairstyle is that the first instance seemed like it would be the only instance, given the vocal outcry from fans and celebrities. In that picture, Jenner was posing in the mirror yet again, but donning a croptop and baggy sweatpants. The caption of the picture was "I woke up like disss." 
And below that, Stenberg responded. Then, she even went on a bit of a Twitter rant about Jenner and the many reasons why her wearing cornrows is offensive. 
"Black features are beautiful," Stenberg wrote. "Black women are not. White women are paragons of virtue and desire. Black women are objects of fetishism and brutality. This, at least, seems to be the mentality surrounding black femininity and beauty in a society built upon eurocentric beauty standards."
That all happened just last year. 
The second instance of cornrows by Jenner was just months later when she posted a Snapchat of her "new look." 
Now, on close to the one-year mark of Jenner wearing cornrows, here she is again. Although Stenberg hasn't spoken up this time, there's no denying that what Jenner is saying is "I'm wearing these, despite what everyone's said." And the same goes for her sister, Kim Kardashian West. Recently, she worn cornrows too, sparking a similar outcry from her admirers, and a debate on what "boxer braids" really are. Hint: They're actually just cornrows. 
As Mic's Jamilah King wrote: "Sure, Kardashian West is a style icon, but the problem at hand is the same as it always is when it comes to appropriation: not giving credit where it's due. Or, in this case, giving too much credit where it's not due. Cornrows — or variations of them — are one of the oldest black hairstyles around, and black celebrities have been rocking them for decades." 
So, maybe the better question now is: When will they learn? 
Read more: