What Time Does 'OITNB' Season 4 Come to Netflix? Fans Are on Edge for Midnight Release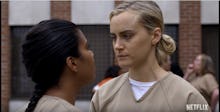 Plans with friends — and generally, the thought of sunlight — needs to be put on hold this weekend: Orange Is the New Black is returning to Netflix for its fourth season. Being a Netflix original series, the entire season will be available in full once its released. But when exactly will that be? 
The show returns on Friday, though the streaming service has declined to give a specific time. However, some users should have a timer on their Netflix homepage counting down the hours. It should be at Friday 3 a.m. Eastern time. Regardless of the exact time, OITNB season four is expected to be available come Friday. 
Binge-watchers though, have been waiting for nearly a year to find out what happens next, and whether Alex Vause survived her assassination attempt. Those on Twitter, naturally, are tweeting about their patience and excitement in droves. 
Though the narrative for this season is still vaguely defined in the likes of teasers, trailers and photos, the series does plan to tackle modern societal movements — namely, Black Lives Matter — as a prison culture war will envelop Litchfield and its new influx of inmates. In turn, it could end up being the show's darkest season yet, per its actors. 
"You've seen the tsunami when it swept through Japan, right?" Kate Mulgrew, who plays Red, said in an interview with the Hollywood Reporter. "Not many people survived, but it's how they do it that is so absolutely captivating. That's season four."
While you wait for Friday, you can check out the trailer for the fourth season below: 
Read more: