Juneteenth Should Be a Federal Holiday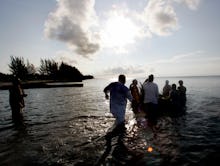 Juneteenth marks the end of slavery in the American South. It is not a federal holiday. It should be.
If you work on June 19, your employer should give you the day off, paid. If you're in school — and God help you, because that's summer vacation time — you should not have to show up for class. Juneteenth should appear in your Google calendar automatically. You should not have to face the irony of working on the day many black slaves first learned they no longer had to 151 years ago.
"Juneteenth is America's second Independence Day," Ronald V. Myers, one of the country's foremost advocates for recognizing Juneteenth as a national holiday, said in a phone interview.
Federal holidays celebrate and define our highest ideals as a nation, and memorialize blood shed upholding them. Few days embody this principle better than Juneteenth — the day Gen. Gordon Granger rode into Galveston, Texas, with news of the Civil War's end and emancipation. You want to honor people who died making America what it is? Honor the black enslaved.
Americans tend to minimize the role slavery played in shaping modern history. In 2012, almost half disagreed or strongly disagreed when asked if slavery created conditions that made it harder for black people to work their way out of poverty, according to the Roper Center for Public Opinion Research at Cornell University.
In Texas — the state where Juneteenth originated — a new spate of social studies textbooks de-emphasizes the role slavery played in launching the Civil War.
"[It's] a side issue to the Civil War," Pat Hardy, a Republican school board member said when the board adopted this new statewide standard in 2010, according to the Washington Post. "There would be those who would say the reason for the Civil War was over slavery. No. It was over states' rights."
Making Juneteenth a federal holiday would fight these attempts at erasure. Juneteenth both acknowledges slavery as part of our history and marks America's promise to move past its original sin — a promise as vital to our DNA as the Declaration of Independence. It's a promise we have yet to live up to.
Though Juneteenth is widely recognized as marking the end of slavery in the United States, the real story is messier. Jamelle Bouie wrote a detailed account for Slate in 2015, but here are the basics: 
Abraham Lincoln issued the Emancipation Proclamation in January 1863, outlawing slavery. This did not "free the slaves," as legend might have you believe, but rather set in motion a stop-and-go process in which some walked free while others remained in bondage by Confederate stragglers and slave owners who retreated deeper into the South, holding on to the brutal institution as long as they could.
This fighting and running went on for years. By the middle of 1865, many enslaved black people in Texas — the westernmost state of the Confederacy — still did not know they had been proclaimed free. On June 19, Granger rode into Galveston, Texas, on the Gulf Coast with news of the Civil War's end and emancipation. Freedom celebrations spread across the state. 
Today, people celebrate the holiday in various forms throughout the country. Juneteenth barbecues, music festivals and parades take place in cities in nearly every U.S. state, in both official and unofficial capacities.
According to the National Juneteenth Observance Foundation, a nationwide coalition of more than 60 advocates led by Myers, a medical doctor, preacher and musician, 43 states now recognize Juneteenth as a state holiday or day of observance, akin to Flag Day. This basically means it is important enough for the government to recognize it, but not important enough to give you the day off.
Making Juneteenth a federal holiday would fight these attempts at erasure. It would acknowledge that we, as a country, once committed to scrubbing out the greatest historical stain on our Constitution's vow to equality for all.
Last year, on Juneteenth's 150th anniversary, the U.S. Senate passed a resolution recognizing June 19, 2015, as Juneteenth Independence Day. The aim was to "support the continued nationwide celebration of 'Juneteenth Independence Day' to provide an opportunity for the people of the United States to learn more about the past and to better understand the experiences that have shaped the United States."
Support for the resolution was unanimous and bipartisan. Sen. John Cornyn, a Republican from Texas, was its sponsor.
This is still not enough. The notoriously difficult process of getting a federal holiday declared presents many barriers, requiring either a bill passed by Congress or a presidential declaration. Whether supporters succeed in designating a date as a federal holiday depends less on its significance than whether its supporters can marshal enough political momentum to make it so. But if there's any day left that's not a federal holiday but deserves to be one, it's Juneteenth.
Of course, June 19, 1865, is an imperfect day to mark slavery's end. For starters, it came more than two years after slaves were supposed to have walked free, per Lincoln's proclamation. And it was followed by generations of black Americans being murdered, tortured, terrorized and barred from anything resembling equality under U.S. law. Today, in an era marked by a racialized mass incarceration epidemic, Michelle Alexander famously dubbed "the new Jim Crow," freedom can still feel a long way off.
But the spirit of Juneteenth lives on through those who celebrate it without official recognition, as their ancestors did over a century ago. Don't make them celebrate alone. Make Juneteenth a federal holiday.