The Latest Updates on Omar Mateen, the Pulse Orlando Mass Shooting Suspect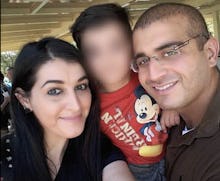 New reports indicate Omar Mateen was texting his wife, checking Facebook and writing posts about the Islamic State while committing the deadliest massacre in modern American history.
According to CNN, Mateen wanted to see if Pulse nightclub, the gay bar he targeted in Sunday morning's attack and possibly frequented beforehand, was starting to trend on Facebook. Mateen also called on the United States and Russia to "stop bombing the Islamic State" on one of six accounts tied to the 29-year-old.
"You kill innocent women and children by doing U.S. airstrikes," Mateen wrote, according to a letter Wisconsin Sen. Ron Johnson sent to Facebook creator Mark Zuckerberg asking for any data he can provide on the shooter. "Now taste the Islamic State vengeance."
At 4 a.m. Eastern, he was texting his wife, Noor Salman, to see whether she had heard the news. She had repeatedly tried calling his cellphone, and sent him a text saying she loved him. CNN cited two "law enforcement officials" who indicated that evidence related to Salman's possible involvement will go before a grand jury.
He then ended his online activity with a final message: "In the next few days you will see attacks from the Islamic State in the USA."
Just a few weeks before the incident that left 50 dead, including Mateen, and another 53 wounded, Mateen was stopped from buying body armor and bulk ammunition, ABC News reported. The gun shop denied the sale and reported it to the FBI's local headquarters — but without any way to follow up on Mateen (license plate, credit card or identifiable surveillance footage) they couldn't investigate the killer. When Mateen was told the store didn't carry the high-end armor he was looking for, employees reported he made a phone call from inside using a foreign language before hanging up and asking about purchasing bulk ammunition.
Here is Mic's original coverage of the shooting:
At least 50 people are dead, including the killer, and 53 injured after a gunman entered Pulse, a gay nightclub in Orlando, Florida, and opened fire, first on patrons and staff and then on responding law enforcement personnel.
Law enforcement sources told CBS News they have identified the suspect as Omar Mateen, a U.S. citizen from Port St. Lucie, Florida, who was born to Afghan parents in 1986. The LA Times' Matt Pearce confirmed authorities had given the name to the paper's D.C. bureau as well.
In an interview with NBC News, the suspect's father, Mir Seddique, apologized and said the massacre had "nothing to do with religion." Instead, he said, the shooting may be tied to an incident several months ago, when Mateen became enraged upon seeing two men kissing in Miami.
"At this point, this is an incident, as I can see it, we can certainly classify as a domestic terror incident," Orange County Sheriff's Office spokesman Jerry Demings said, according to CBS News.
Read more: