'RuPaul's Drag Race All-Stars 2' Cast Announced — See Which Queens Are Competing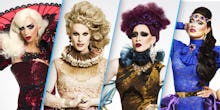 Over eight seasons (plus one all-stars season) of RuPaul's Drag Race, 100 queens have competed for the title of America's Next Drag Superstar. The show recently wrapped its eighth season with a hilarious, outspoken, lovable winner: Bob the Drag Queen.
This August, 10 former contestants will compete again in All-Stars 2 — and now we know exactly who those queens will be.
The news first leaked online in the form of a magazine page, seemingly from Entertainment Weekly (since the author credited is EW writer Dylan Kickham). The leaked page reports not only the cast, but the premiere date: August 25. Both pieces of information were confirmed by Logo through their online news portal, NewNowNext.
Here are the 10 queens vying to enter the winner's circle:
Name: Adore Delano
Adore was a Cinderella story in her season — a street drag performer who left the competition a fully fledged drag queen. Adore's big handicap in All-Stars will be proving she has more to show beyond that transformation.
Name: Alaska
Alaska had good reason to feel like she was robbed in season five. While winner Jinkx Monsoon was a star throughout the competition, Alaska rallied right at the end. Plus, she was then dating the winner of season four, Sharon Needles. She's only grown as a queen since her season ended, so she's a frontrunner this time around.
Name: Alyssa Edwards
Alyssa Edwards was constantly in the bottom in season five, but she dug herself out every time on the wonder of her Lip-Sync for Your Life performances. Her battle against fellow All-Stars 2 competitor Roxxxy Andrews is legendary. Alyssa has blossomed outside the show, with her hilarious web series Alyssa's Secret. Will we see a new Alyssa during All-Stars?
Name: Coco Montrese
During season five, Coco was known for two things: her rivalry with Alyssa Edwards and her jaw-dropping lip-sync performances. She was the only one who could defeat Alyssa, finally knocking her out of the competition when they performed Paula Abdul's "Cold-Hearted." They seem to have made peace since, but their rivalry may renew itself in All-Stars 2.
Name: Detox
There are a lot of season five queens in this All-Stars season, and for good reason: Season five was filled to the brim with colorful personalities that make for good TV. Detox certainly was colorful, but got consistent criticism from RuPaul and the judges that she wasn't giving her all. All-Stars 2 is a chance to for her to show what she's really made of.
Name: Ginger Minj
The first plus-size queen to make the top three of any season, Ginger was a performing powerhouse in her season. She just had the misfortune to appear in a season where fashion and glamour won out. This season is her chance to make an impact.
Name: Katya
Season seven's Miss Congeniality was seen by many a fan as the rightful winner. RuPaul even nodded at fan opinion when she was about to announce the season winner. She called Katya's name ... then asked for a sip of water. All-Stars 2 is Katya's — and possibly Ru's — chance to make good.
Name: Phi Phi O'Hara
Phi Phi O'Hara was season four's villain, making it to the top three over a fan favorite (Latrice Royale) and sparring constantly with winner Sharon Needles. Her drag has become much more ambitious as of late — see her 365 Days of Drag project — but will that translate to Ru's runway?
Name: Roxxxy Andrews
Roxxxy was a frontrunner throughout season five, winning the first challenge and only once falling into the bottom two. But she quickly wrapped herself up in an ugly rivalry with eventual winner Jinkx Monsoon. She's reunited with her former clique members Alaska and Detox this season, meaning viewers may see Rolaskatox redux come August.
Name: Tatianna
Tatianna was 21 when she competed on season two — but that was quite a while ago. She's the only one competing in All-Stars 2 from before season four. Now 27, Tatianna's drag has changed almost completely since the show aired. If anyone is bound to surprise, it'll be her.
Read more: