Kendall Jenner Claps Back at Stephanie Seymour After Being Called a "Bitch of the Moment"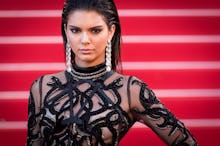 It took Kendall Jenner three days, but she's finally ready to fire back at former supermodel Stephanie Seymour, who for no obvious reason took a swipe at Jenner and fellow "it" model Gigi Hadid in a recent Vanity Fair interview.
"I've seen the debate over (me and) Gigi (not) being real supermodels and I definitely have an opinion," Jenner wrote in an open letter on her website in response to Seymour who earlier this week dismissed the notion that Jenner and Hadid were supermodels, instead calling them "Bitches of the moment!" "If you're going to tell us not to be in 'your moment,' then don't be in mine! If you choose to be a cyberbully, I'm going to stick up for myself."
"No one is trying to steal Stephanie Seymour's thing, or trying to be her. I actually looked up to her. She has a daughter! I guarantee you that she didn't imagine someone so publicly shaming her daughter when she made those comments about us being 'bitches of the moment.'"
She then offered some level-headed perspective with a "there's room for everyone" approach to putting out the metaphorical fire Seymour ignited.
"If people want to call Gigi and I supermodels now, it doesn't take anything away from supermodels of the past," Jenner continued. "Obviously, I have so much respect for those women, but right now, we're the models of this time. Significant? Maybe. Hardworking? For sure."
In the less than critical debate over who gets to wear the title of supermodel, it seems Jenner is the clear winner. After all, it's not as though Jenner chose the term for her or her BFF Hadid, it's a title that's been bestowed upon them by the media — even Vogue, fashion's proverbial bible dubbed the pair supermodels in 2015.
Seems like another case of a celebrity long out of the spotlight trying to drum up some press, and while Seymour was successful in that, Jenner's recent successes — including walking for Givenchy, Marc Jacobs, Chanel, Balmain, Diane von Furstenberg and more — prove that no matter the title, the fashion world can't get enough Jenner.
Read more: