After Orlando Massacre, This Muslim Group Is Setting the Bar for How We Should Respond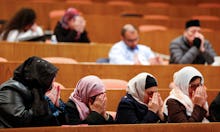 In response to Sunday's mass shooting in Orlando, Florida, that killed 49 people, a Muslim group in Detroit held a prayer service Tuesday and is urging its members to break their Ramadan fast to donate blood, MLive reported.
"We condemn this senseless and horrific act of violence in the strongest possible terms," Mansoor Qureshi, Ahmadiyya Muslim Community's metro Detroit chapter president, told his members, according to MLive. "Our hearts go out to the innocent victims and their families. We stand in solidarity with them as their neighbors and brothers and sisters in peace. Islam teaches reverence for all human life. This is a time to pray and act to stop such senseless violence in our nation."
Muslims of the Ahmadiyya Muslim Community Center are among many Muslims who fast for the monthlong holy Islamic holiday Ramadan, which lasts from June 5 to July 5.
The metro Detroit chapter weren't the only Muslims to donate blood for Orlando victims in the middle of Ramadan. The Council on American-Islamic Relations also urged Muslims to donate blood, the Cut reported.
Muslim American Mahmoud ElAwadi posted this viral picture of himself donating blood on Sunday:
"Yes I donated blood even though I can't eat or drink anything cause I'm fasting in our holy month Ramadan just like hundreds of other Muslims who donated today here in Orlando," he wrote.
Read more: