On One-Year Anniversary of Charleston Church Massacre, Here Are 6 Facts We Can't Forget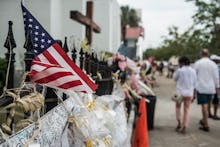 It's been one year since Dylann Roof entered a black church in Charleston, South Carolina, and opened fire, killing nine people. It was an event that shook the nation, especially the black community, at its core and tipped off a national conversation about gun violence, race, and what it means to be black in modern America. 
The massacre specifically sparked outrage for its racist motives — Roof, it came out, considered himself a crusader for the white race. A manifesto he penned before the attack, and which was discovered during the investigation, stated, "We have no skinheads, no real KKK, no one doing anything but talking on the internet. Well someone has to have the bravery to take it to the real world, and I guess that has to be me."
On the one-year anniversary of the Charleston church massacre, here's Mic's previous coverage from June 18, 2015, on the historical significance of Roof targeting the Emanuel African Methodist Episcopal Church to carry out his killings of black people.  
Original story: 
On Wednesday night in downtown Charleston, South Carolina, authorities say a 21-year-old white man entered the Emanuel African Methodist Episcopal Church and gunned down nine black parishioners during a Bible study gathering.
Officers tracked down and arrested the suspect, identified as Dylann Storm Roof, at a traffic stop in North Carolina before noon on Thursday, Charleston Police Chief Greg Mullen said during a press conference. Twelve hours earlier, Mullen was among the first public officials to describe the murders as a "hate crime." Roof, a native of Lexington, South Carolina, about two hours northwest of the Charleston coast, can be seen on surveillance video entering the church.
But even as new details emerge about the suspect and his motives, we must also consider the historical significance attached to the scene of the crime — a broader frame that includes a city and state with deep and, in some cases, abiding ties to the most violent chapters in American history.
1. The Emanuel AME Church is no ordinary house of worship.
Known as "Mother Emanuel," the church is the oldest African-American congregation in the South. During his remarks Thursday, President Barack Obama described it as a "sacred place in the history of Charleston, and in the history of America." Both Martin Luther King Jr. and his wife, Coretta Scott King, spoke there.
"The Emanuel AME Church quite literally represents black freedom in Charleston."
Parishioners first came together under its banner in 1816, according to the National Parks Service, which traces two remarkable centuries that saw the structure itself repeatedly attacked, destroyed and rebuilt. In 1821, cofounder Denmark Vesey began to a plan a slave revolt. But word spread and the church was destroyed, burned down as more than 35 "alleged participants" were executed. 
"The Emanuel AME Church quite literally represents black freedom in Charleston," Robert Greene II, a doctoral candidate at the University of South Carolina, told Mic early Thursday. "It was a hotbed for abolitionism and resistance to slavery."
Between 1834, when black churches were banned, and 1865, congregants continued to hold services in secret or underground.
"After the Civil War ends," Greene said, "Emanuel becomes a symbol of black political and social power in Charleston, to the point where even in the 20th century, during the civil rights movement in the 1960s, it's a place where black activists in Charleston often gathered."
2. The Confederate flag still flies in the state capitol.
That divisive symbol of the Civil War South still hangs over the statehouse grounds in Columbia. South Carolina is one of a handful of Southern states which continue to insist on displaying the flag or allowing residents to ask for it to be printed on their license plates. (Coincidentally, the Supreme Court on Thursday ruled that Texas could deny private citizens from ordering the design featured on personalized tags.)
Even on Thursday — with nine black men and women killed in an alleged hate crime just two hours away in Charleston —the Confederate flag remained on display.
3. Charleston was a major slave-trading center before the Civil War.
A 2011 New York Times report addressed the city's reluctance to memorialize its place as one of the largest slavery centers of the 18th century.
"You're standing in the actual showroom, the place where traders sold — and buyers bought — American blacks who were born into slavery," reads a sign in the Old Slave Mart Museum, according to the New York Times. The exhibition wasn't completed and opened to the public until 2007.
"The city was built on slave labor and, for nearly 200 years, thrived under a slave economy," author and columnist Brian Hicks wrote in the Charleston Post and Courier. By his count, nearly 10% of the 4 million slaves toiling in the U.S. by 1860 were located in South Carolina, and "about 40% of enslaved Africans brought into the country passed through Charleston Harbor."
4. There are no statewide hate crime laws in South Carolina.
Nineteen known hate groups are currently operating across South Carolina, according to the latest count from the Southern Poverty Law Center. The state is one of only five across the country without its own hate crime law. In this case, the Justice Department's Civil Rights Division has already launched a federal investigation to run concurrently with South Carolina's criminal probe.
In Charleston, though, there is little doubt as to the nature of what happened Wednesday night.  
"We believe this is a hate crime; that is how we are investigating it," police chief Mullen said just hours after the shooting. The alleged killer's decision to target the Emanuel congregation also pointed to more sinister intentions. 
"If [the alleged gunman] were to hit a church on a Wednesday night, this definitely be the most high-value target in Charleston," Greene told Mic.
5. The Law Center to Prevent Gun Violence gives the state an "F" on gun laws.
"Someone who wanted to inflict harm had no trouble getting their hands on a gun," Obama said during his remarks Thursday afternoon. "This type of mass violence doesn't happen in other advanced countries."
South Carolina is among the most permissive states in the country when it comes to the trade and possession of firearms. Early Thursday, Reuters quoted an uncle of Roof's saying the 21-year-old's father gave him a gun during a recent birthday. The uncle described the suspect as "adrift," but even if Roof turns out to have been suffering from a diagnosed psychiatric illness, he would not have been subject to a background check before receiving or purchasing a firearm.
In 2010, the Center for American Progress reported "five gun murders for every 100,000 people" in South Carolina, about "39% higher than the national average."
6. Walter Scott was shot in the back and killed by a police officer in North Charleston.
On April 4, former police Officer Michael Slager fatally shot Walter Scott, an unarmed black man, as he attempted to run away during a traffic stop. But it wasn't until mobile phone video surfaced contradicting Slager's account that police began a proper investigation, which led to a murder charge days later and a formal indictment on June 8.
In the aftermath of the killing, state senator and pastor Clementa Pinckney became increasingly vocal in his calls for pending legislation that would require police wear body cameras while on patrol. Pinckney called on his colleagues in state government to embrace the legislation, not as a "golden ticket" or "end-all-fix-all," but a useful means "to paint a picture of what happens during a police stop."
Pinckney, who was leading Thursday night's study session at the church, was among the shooting victims.
"A lot of folks in North Charleston were not surprised by [the Scott shooting]," Greene told Mic on Thursday, "because it was an example of how race relations in Charleston have always been pretty rocky."
Read more: