Model Ashley Graham Proudly Flaunts Her Cellulite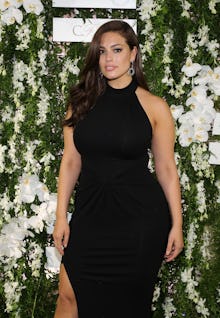 Model Ashley Graham has a great deal of accomplishments to be proud of: She was just on the cover of the Sports Illustrated swimsuit issue as well as the cover of Maxim, she launched her own clothing line and her own swimsuit line and, most recently, she appeared opposite Joe Jonas in the music video for his band DNCE's new single, "Toothbrush."
But perhaps most important of all: Graham has cellulite — and she's proud of it. 
In an Instagram post on Wednesday, Graham posed on a bicycle in New York City, baring her legs, as well as the dimples on her thighs. 
"A little cellulite never hurt nobody," she wrote in the caption. "Stop judging yourself, embrace the things that society has called 'ugly.'" 
It was a sentiment that touched many of her fans, who were quick to comment with their support of this message. 
"You are an inspiration. You are a real woman and the reason you're so fabulous is because you're brimming with confidence," one commenter wrote. 
"We need to take (back) pride in our real bodies. Thank you for being a beacon of light and inspiration to so many," wrote another.
And as a few commenters pointed out, cellulite, like wrinkles and any and all bulges of fat, is often erased by photo editing in magazines. Very few times are women (and in particular models) photographed with all those tiny dimples showing. 
"This is awesome and she is beautiful!" one commenter wrote. "Unfortunately it also shows how much Photoshopping is done on magazine covers." 
"Anyone, no matter what their size can have cellulite and no one talks about it because it's always airbrushed," another noted. 
In a time when lots of famous women are regularly getting edited by magazines, from Zendaya and Kerry Washington to Graham herself, Graham's message struck a chord. 
Read more: